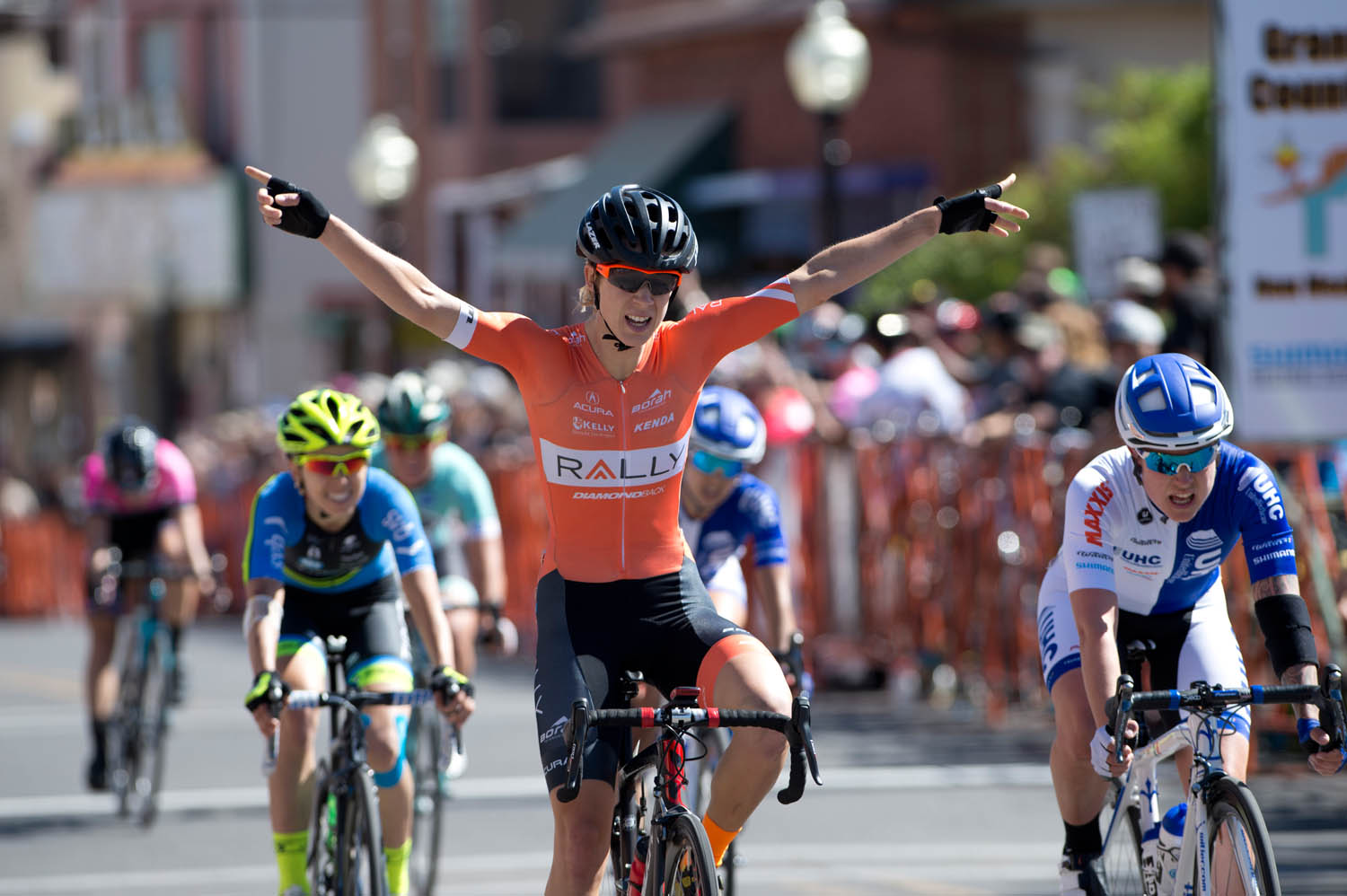 news
Rally Cycling Continues its Winning Ways in New Mexico
Heather Fischer showed her strength and speed to take victory in the tough stage 4 Downtown Silver City Criterium at the Tour of the Gila. In the run for the line Fischer out kicked Linda Villumsen (UnitedHealthcare) and Emily Collins (TIBCO-SVB) to claim victory in the 43.5-kilometer event. The win moves Fischer back into the lead in the points competition. Fischer held the jersey after stage one, but relinquished it to her teammate Jasmin Glaesser in stage 2.
"I am very happy to get another stage win for Rally Cycling at the Tour of the Gila," said Fischer. I am also very proud to have achieved my first UCI win. Everyone on the squad has been doing their part this week and the talent and teamwork shows in our results."
In the general classification, Jasmin Glaesser maintained her fourth place overall going into the final stage.
"In today's stage the team showed a commitment to a task," said Team Director Zach Bell. "Protecting our general classification positions, winning the stage and securing the points jersey went hand in hand and the team did it. Everyday these women come out and demonstrate they are all capable of excellent, exciting and tactical racing. We have one more day and more goals for the race, the fight is not over, and we are all looking forward to closing out what has been a great week."
The women of Rally Cycling also had a strong showing elsewhere in the country with both Erica Allar and Emma White grabbing wins on the East Coast. On Friday, Allar sprinted to victory in the Spartanburg Regional Healthcare System Criterium, in Spartanburg, South Carolina and on Saturday White won the Women's Woodstock GP in upstate New York. In total, the women of Rally Cycling have claimed four victories in the last three days.
"I knew I was outnumbered and had to race smart," said Allar of her win in Spartanburg. "My main objective was to make the splits and go for some primes. I was surprised to find myself in another three-person break away just over half way. When we came back together I had about seven laps to recover and change my mentality for a sprint. It's not every day I get to practice my break away skills and field sprinting."
Tomorrow is the final and toughest stage of the Tour of the Gila – the infamous Gila Monster Road Race. Rally Cycling will look to put Rob Britton for the men and Jasmin Glaesser for the women on the podiums while defending Fischer's lead in the points competition.
Tour of the Gila Stage 4
1. Heather Fischer (Rally Cycling)
2. Linda Villumsen (UnitedHealthcare)
3. Emily Collins (TIBCO-SVB)