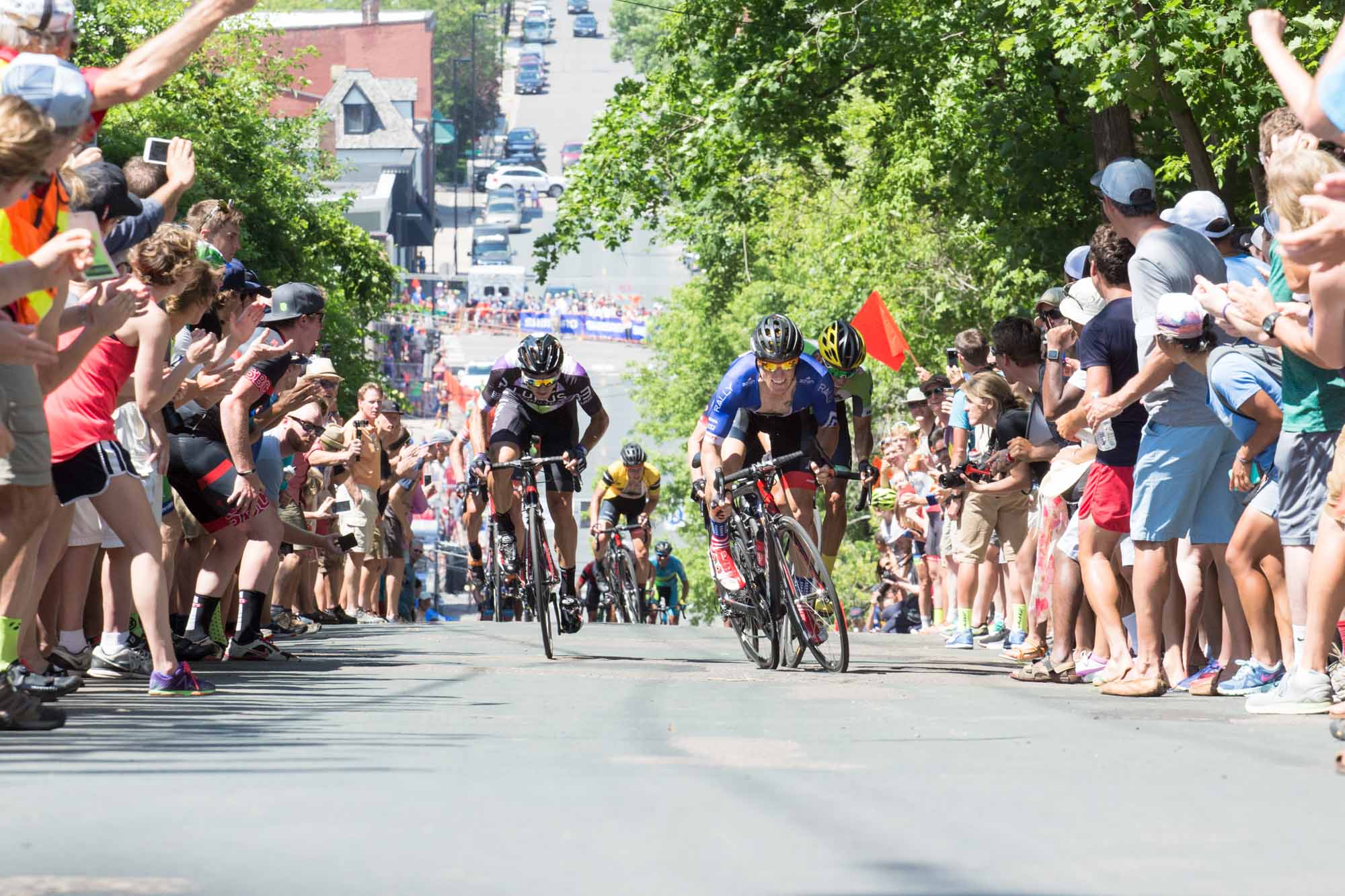 news
The final day of the North Star Grand Prix in pristine Stillwater, Minnesota is called a criterium, but its one-of-a-kind, vertigo inducing course layout makes it anything but. A few hundred feet of 17% grade climbing on Chilkoot Hill is followed by a flattish loop on the topside of the course (catch your breath) which leads right into a steep and rail straight descent. Two tight right handers bring you back to the base of Chilkoot. 
Any deficits in fitness and endurance after five days of racing are quickly exposed – even one lap into the race, riders are off the back grimacing. This system shock isn't made easier when Rally Cycling is in title defense mode for Evan Huffman. Down to four riders because of injury, it would take an outsized effort to bring that jersey home and win the race for the 6th straight year.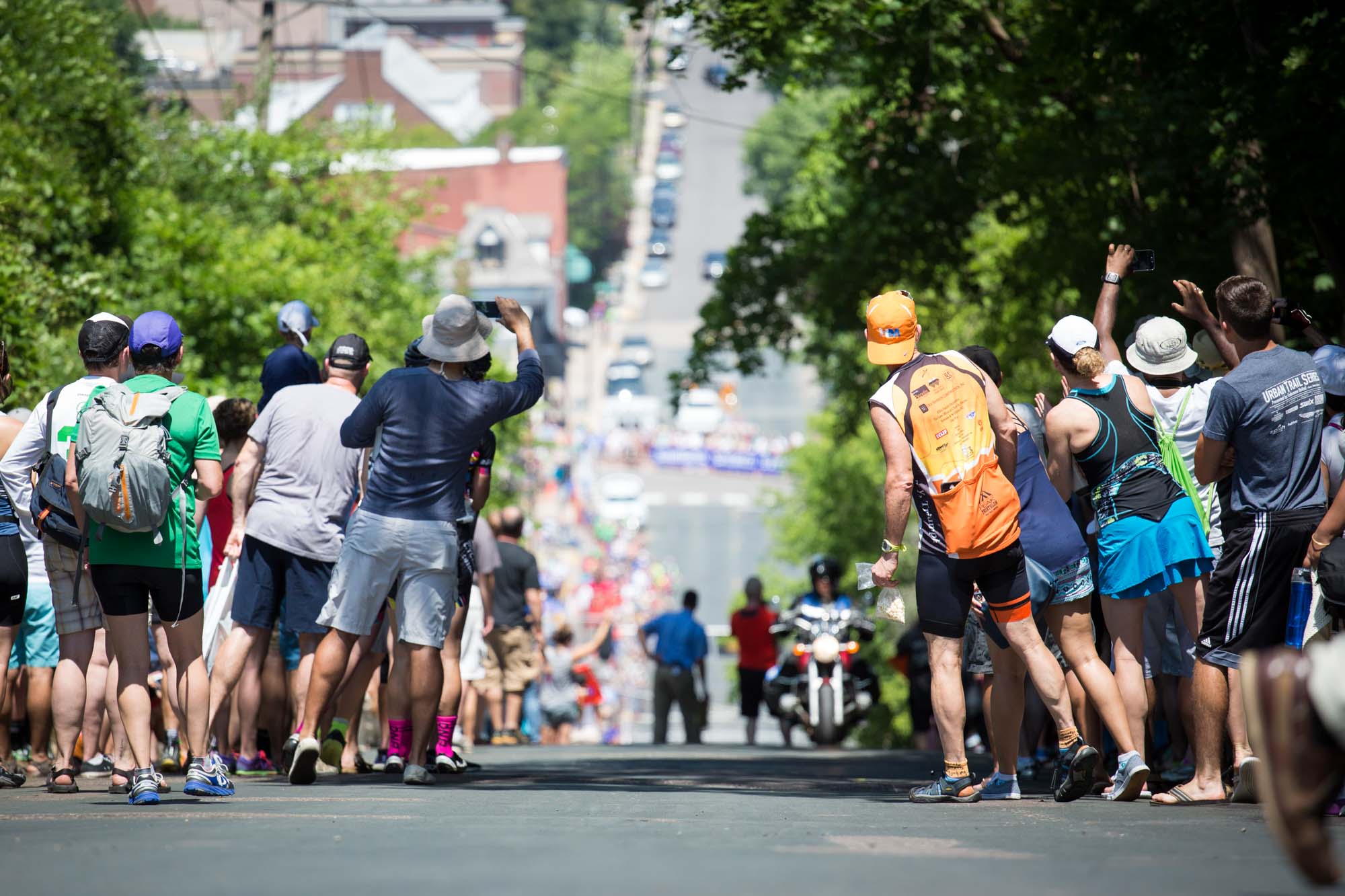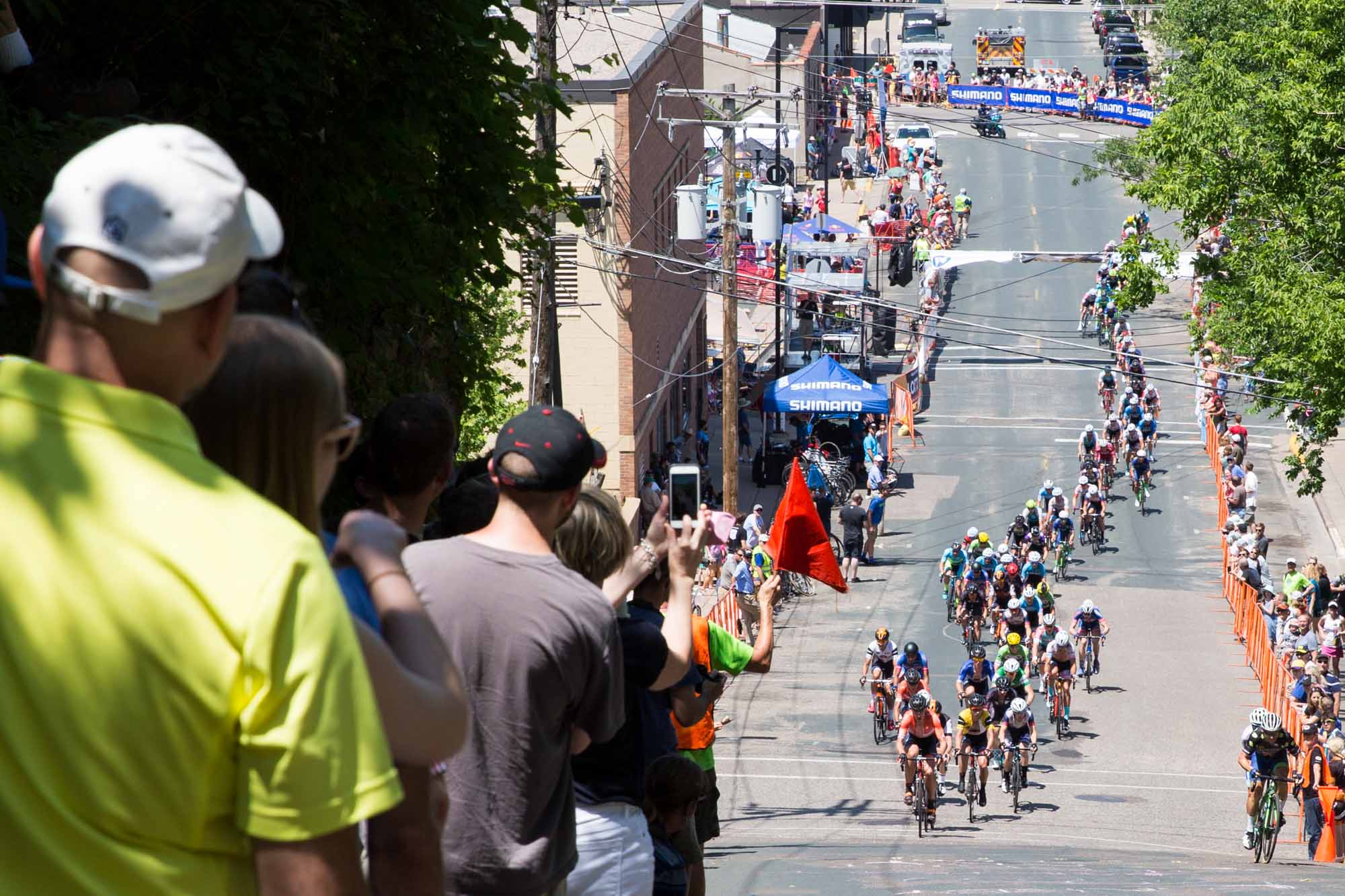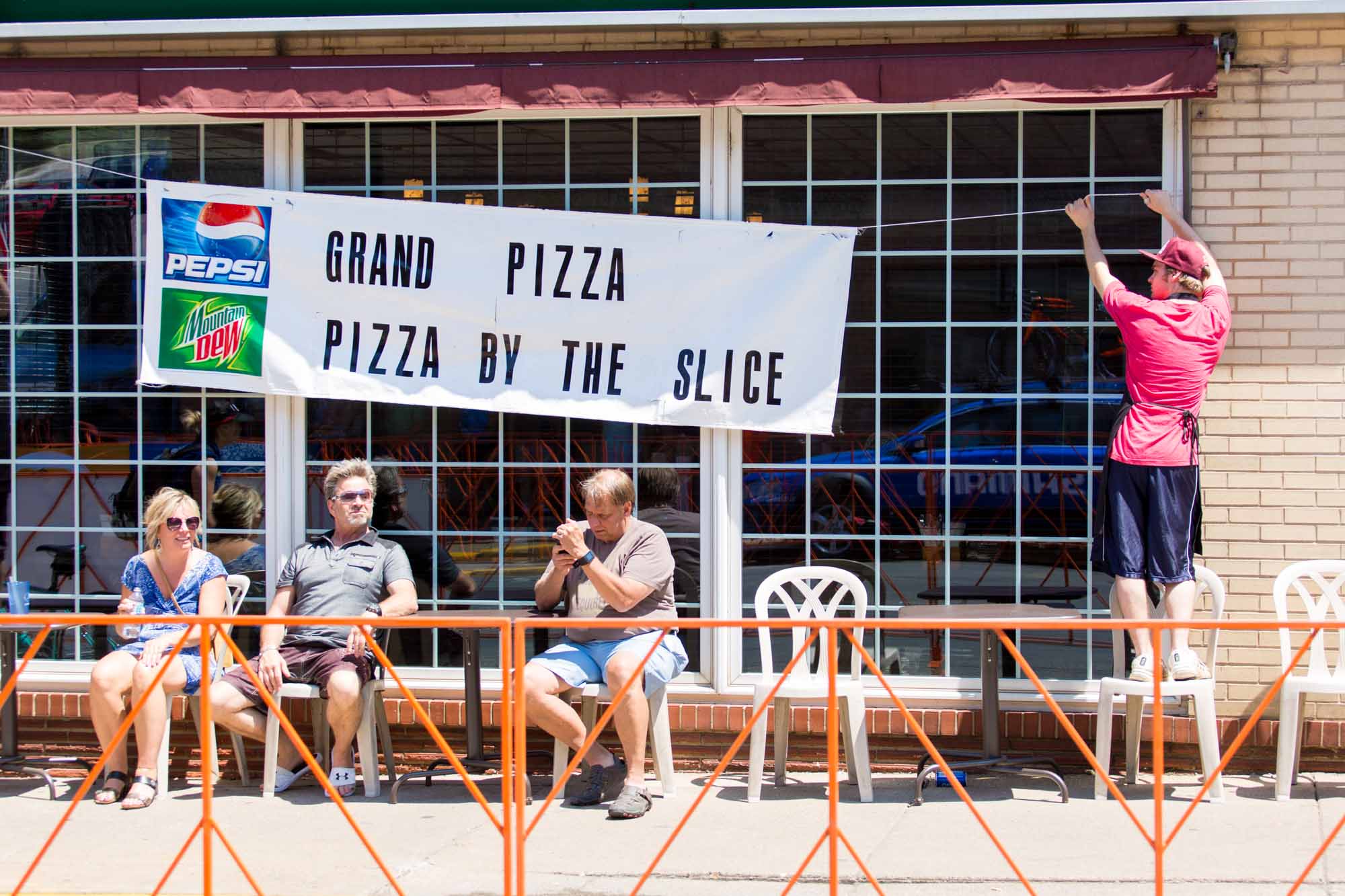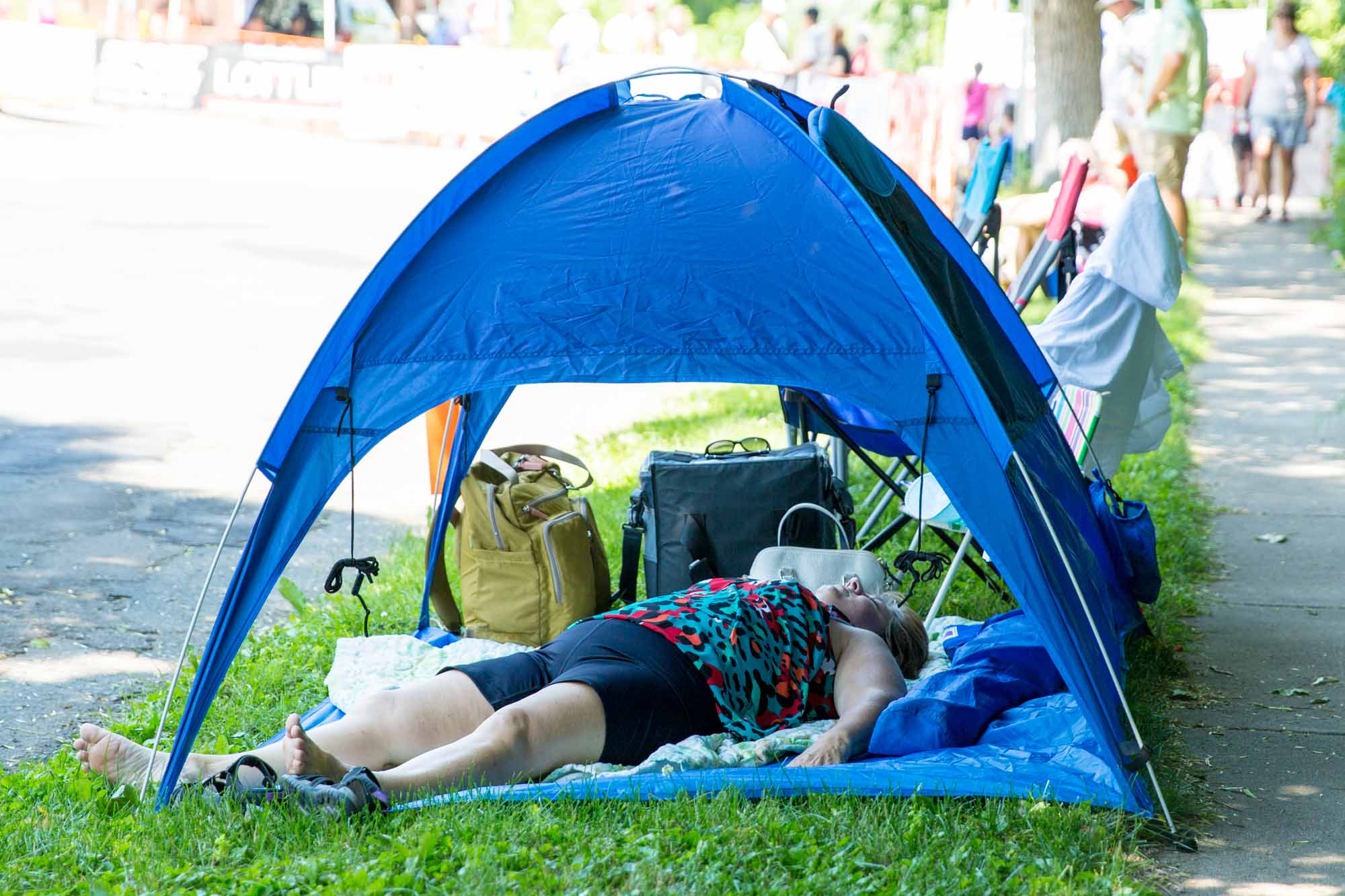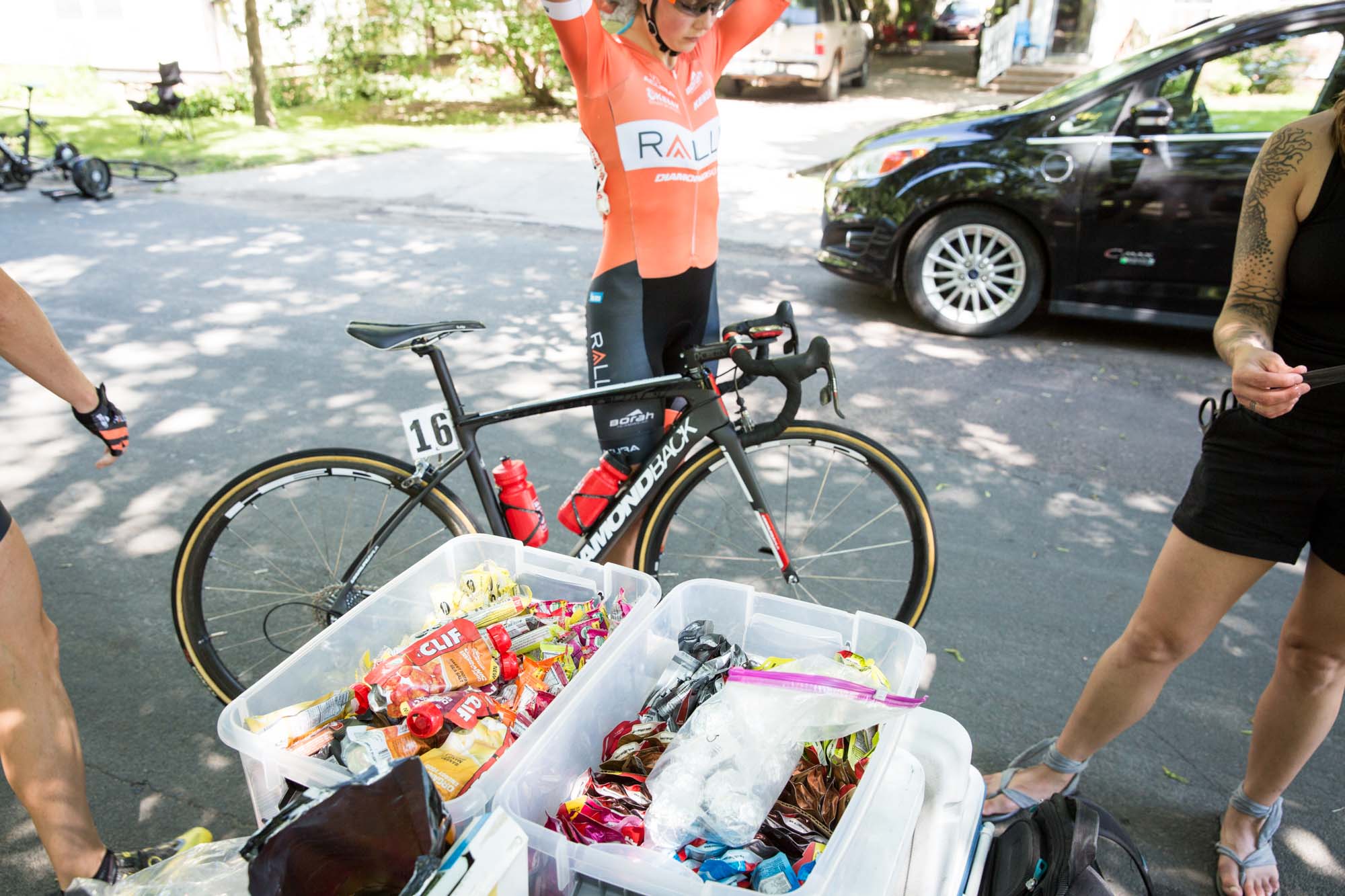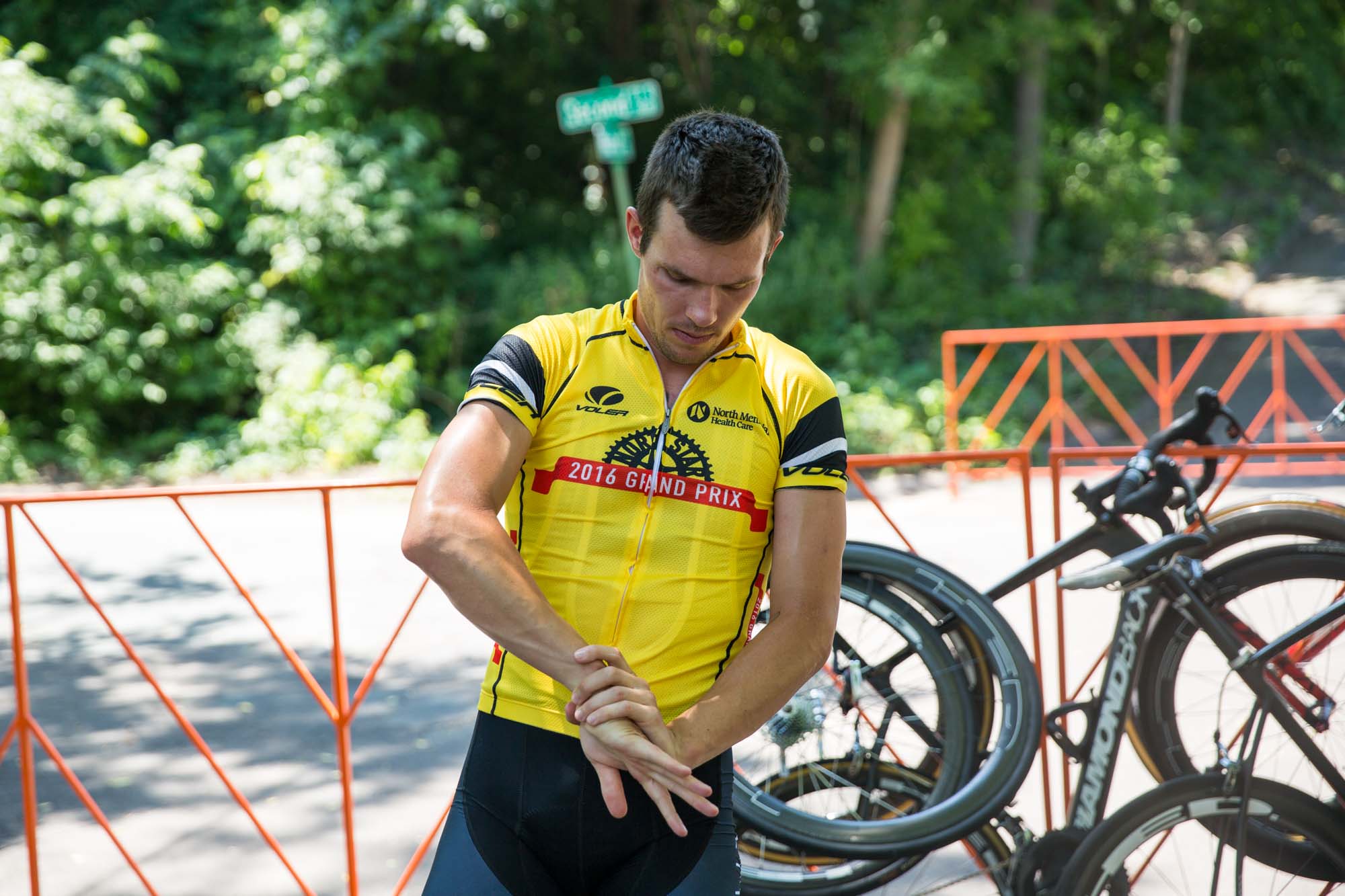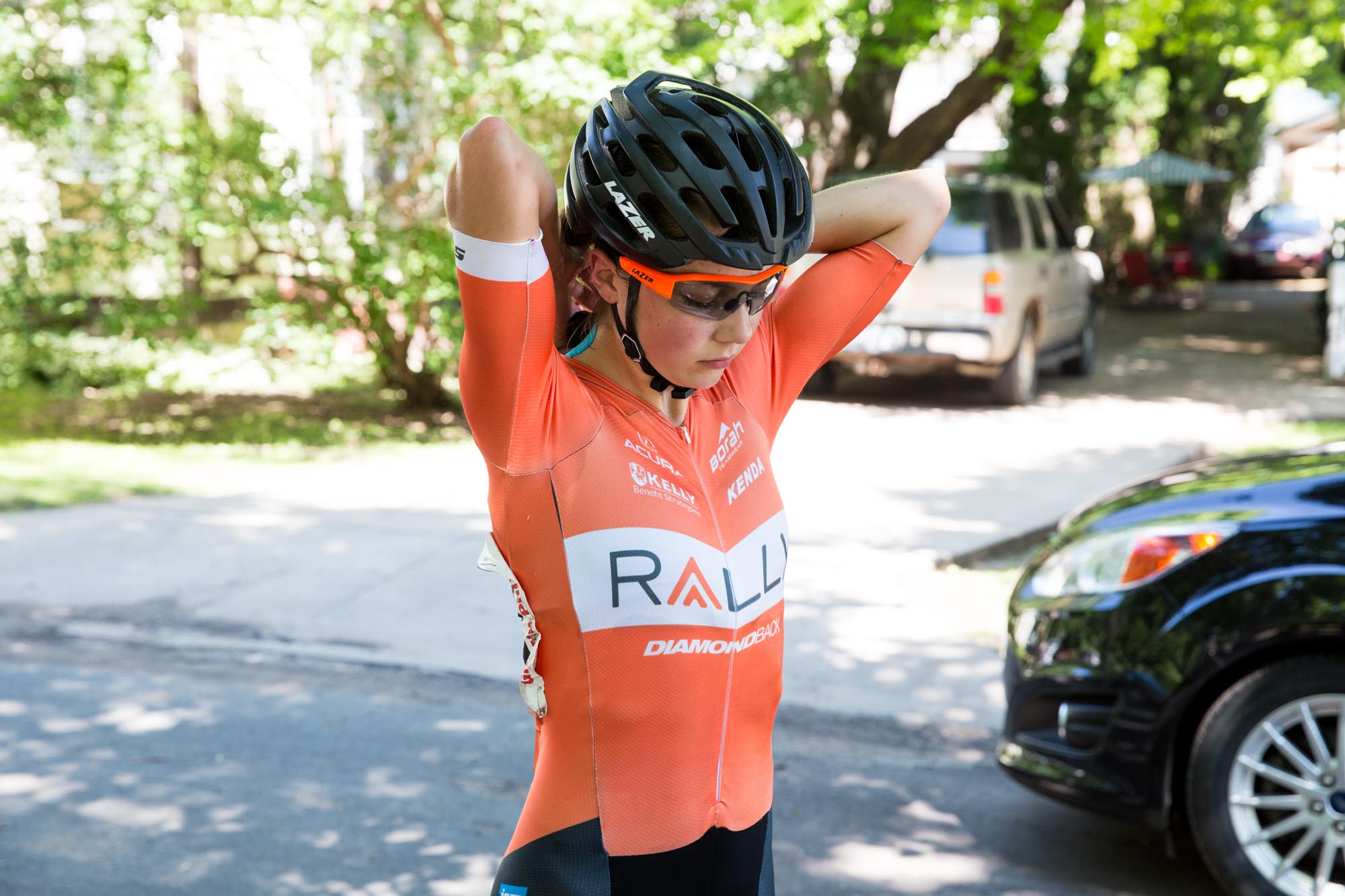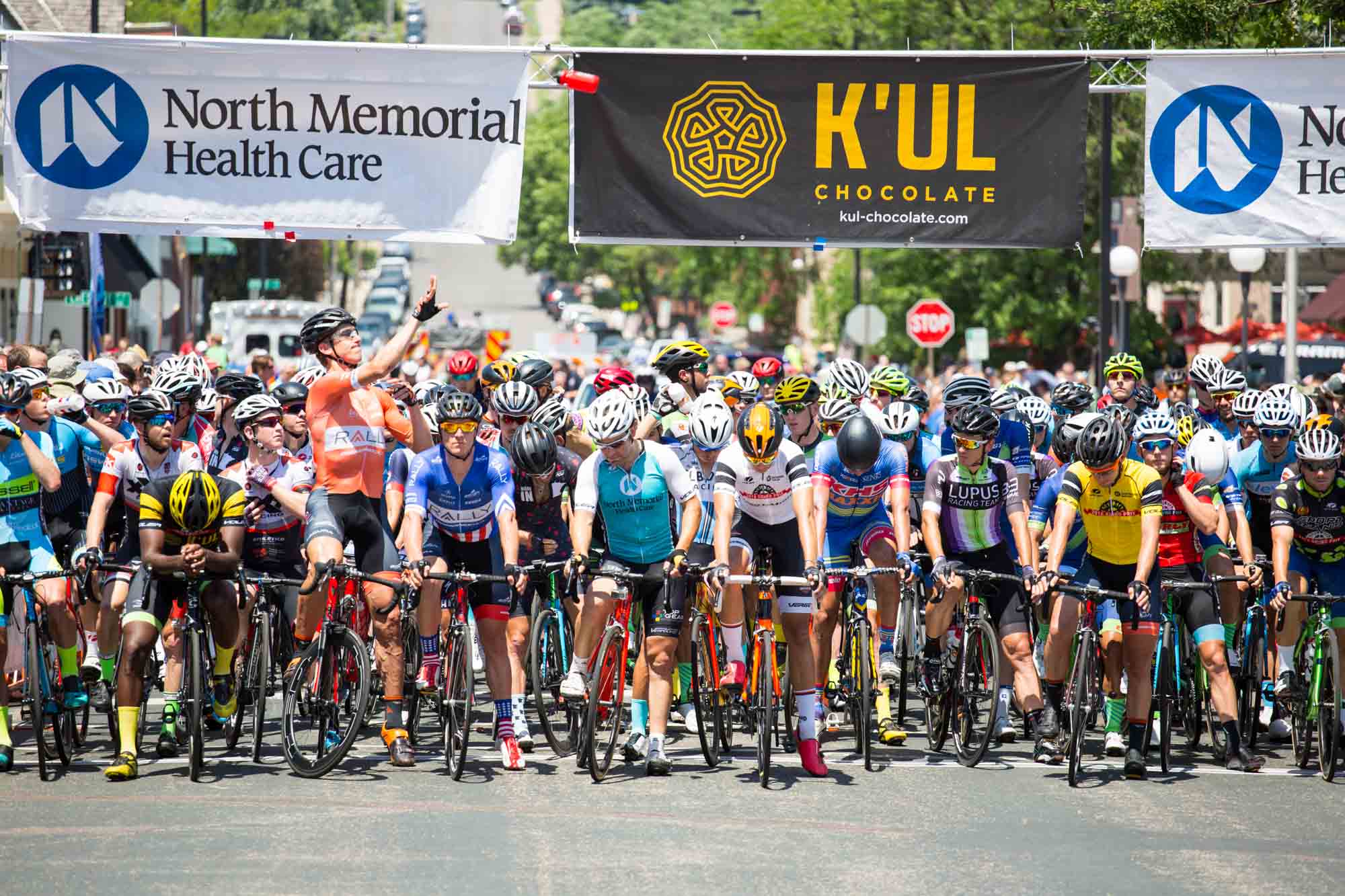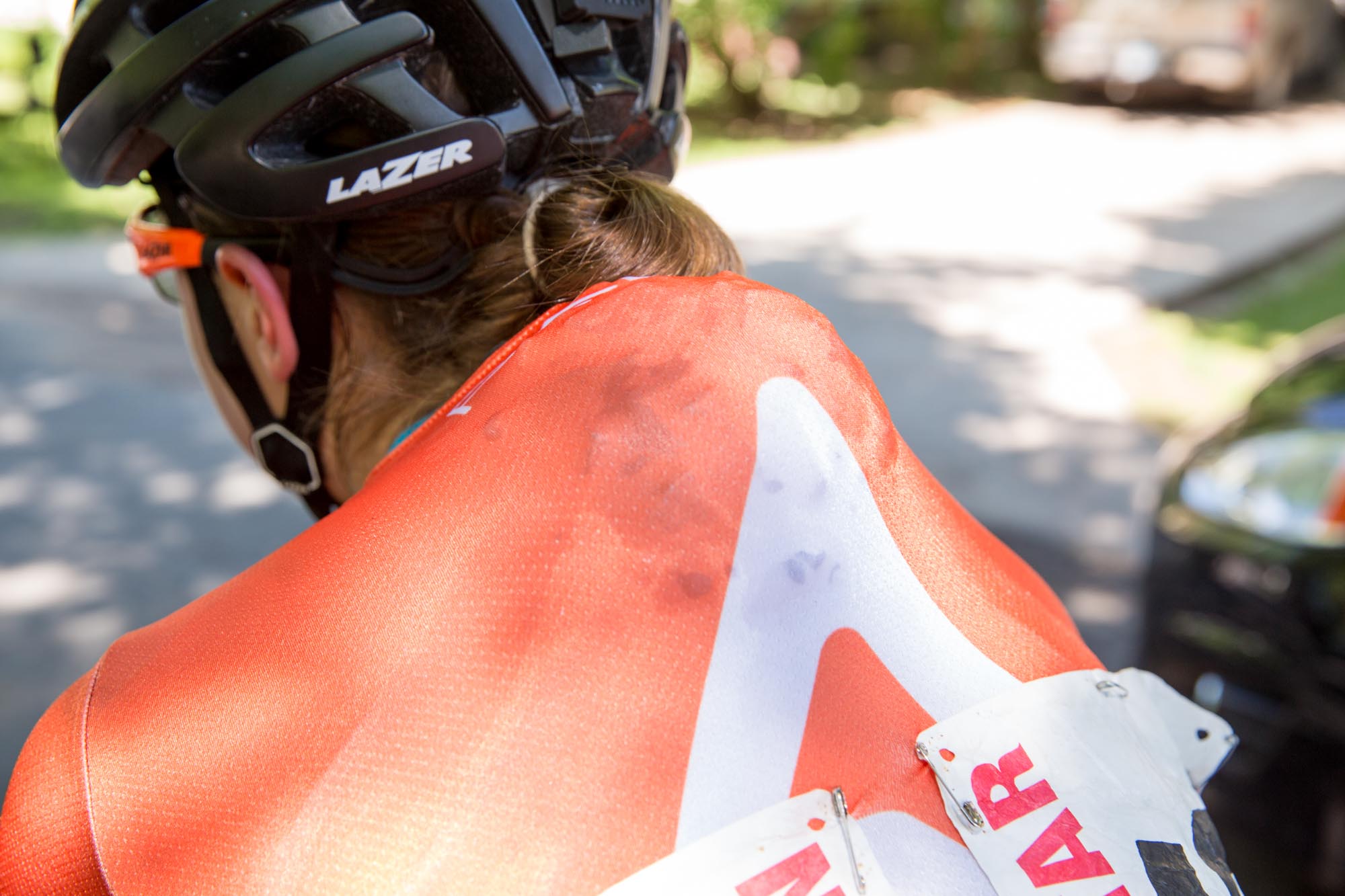 The ice sock is one of cycling's more quirky traditions, but it has real science backing it up. In hot races, riders like to place them at the nape of their neck. The ice slowly melts into cool water. It's an air conditioner made from frozen water and cheap nylons. Just like a car engine, a cyclist's body temperature needs to be regulated. For our "engine" – heart, lungs, legs, and brain – to function at peak performance in hot conditions, a few extra degrees of cooling can make a huge difference. Next time you are on a hot ride, dump a bunch of cold water on your head before you head out, like Erica Allar did before her start. It makes a difference.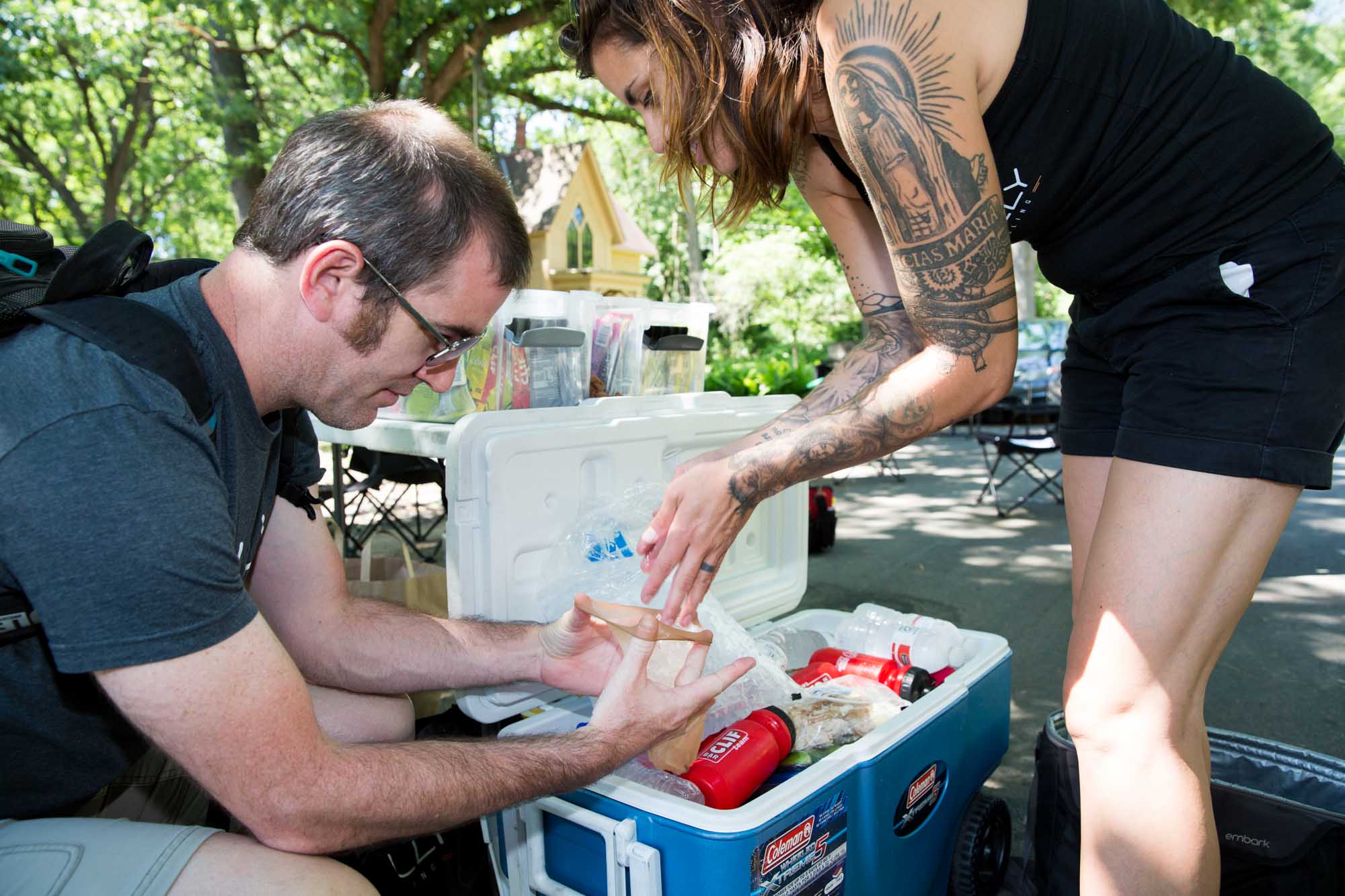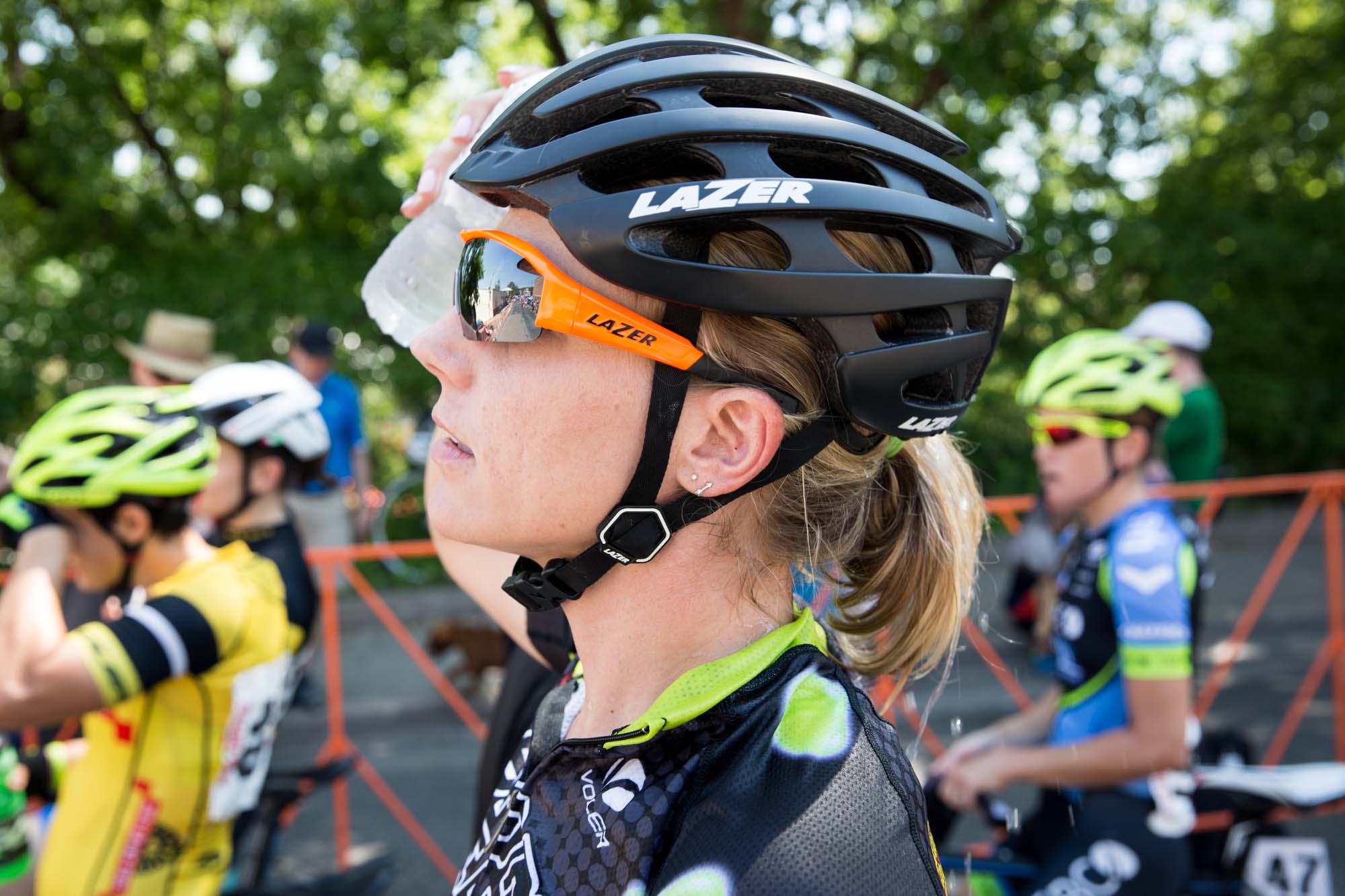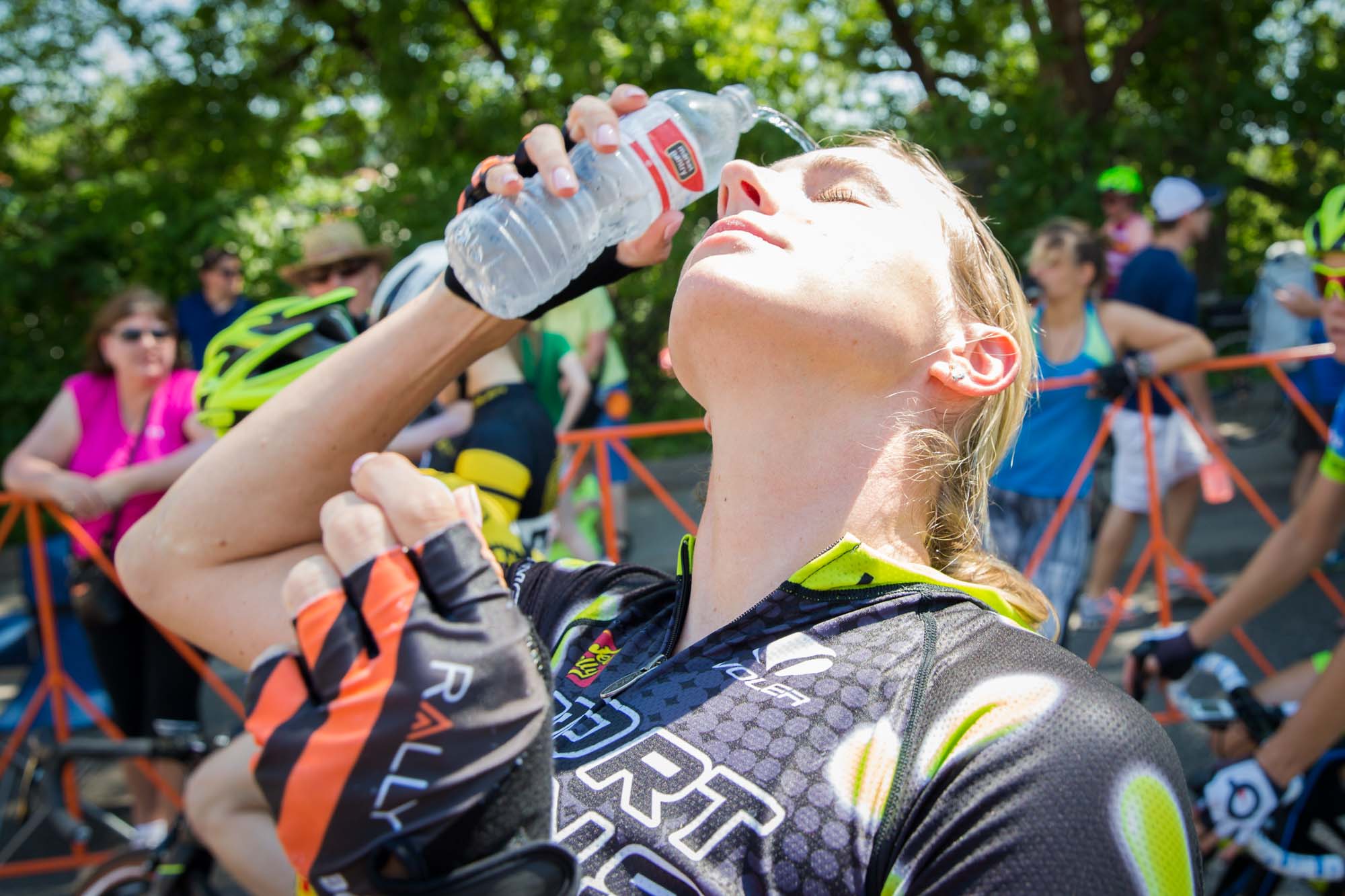 Erica Allar is a sprinter, one of the best currently racing in the United States, and we all know sprinters can't climb, right?. Thanks to some good team tactics and Minnesota's relatively easygoing climbs, the Queen of the Hill jersey was attainable for the versatile Allar. She charged up the opening climb, winning top points and mathematically securing the jersey for good. It was the first time Allar had won a classification jersey at such a prestigious event.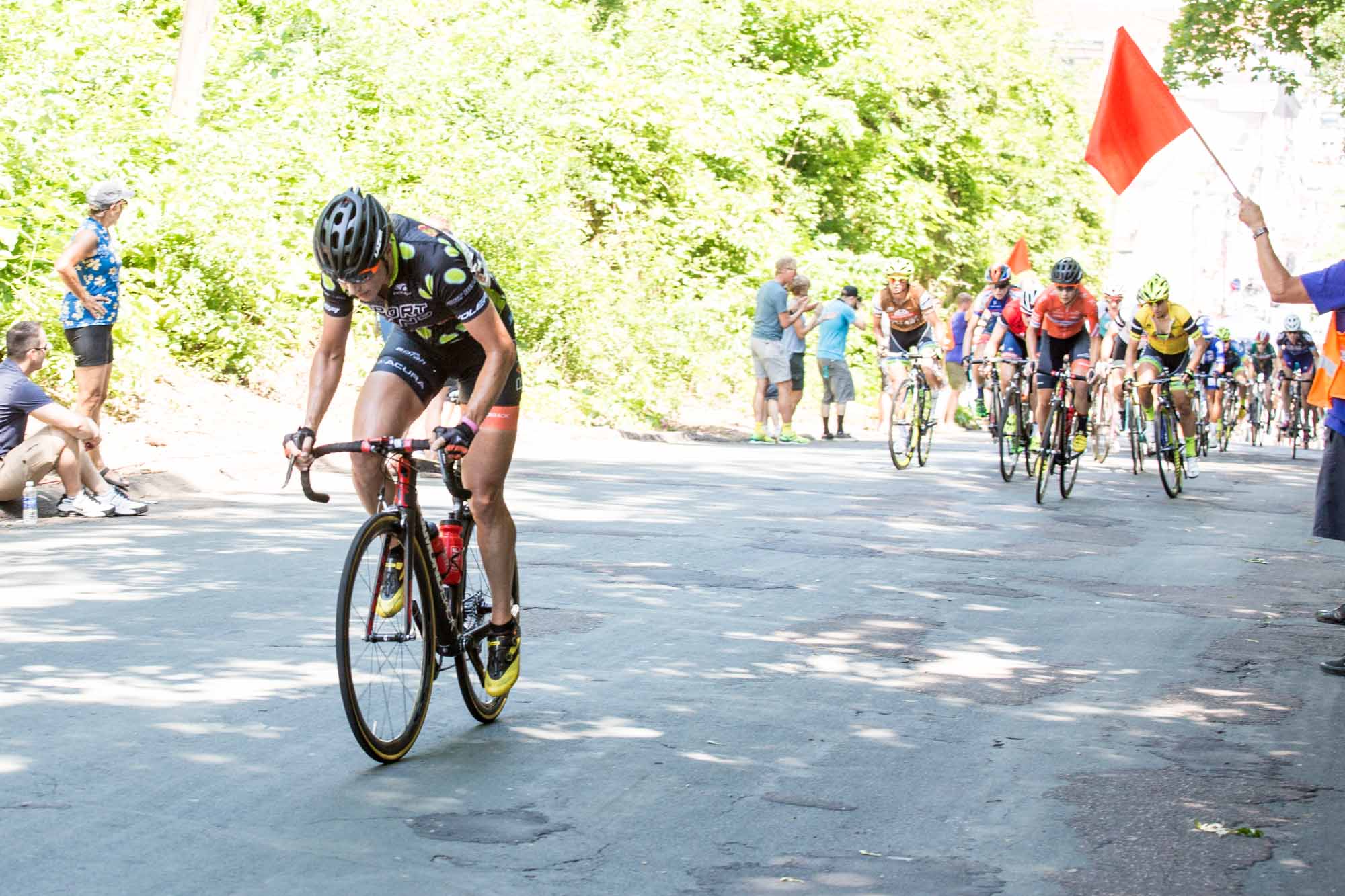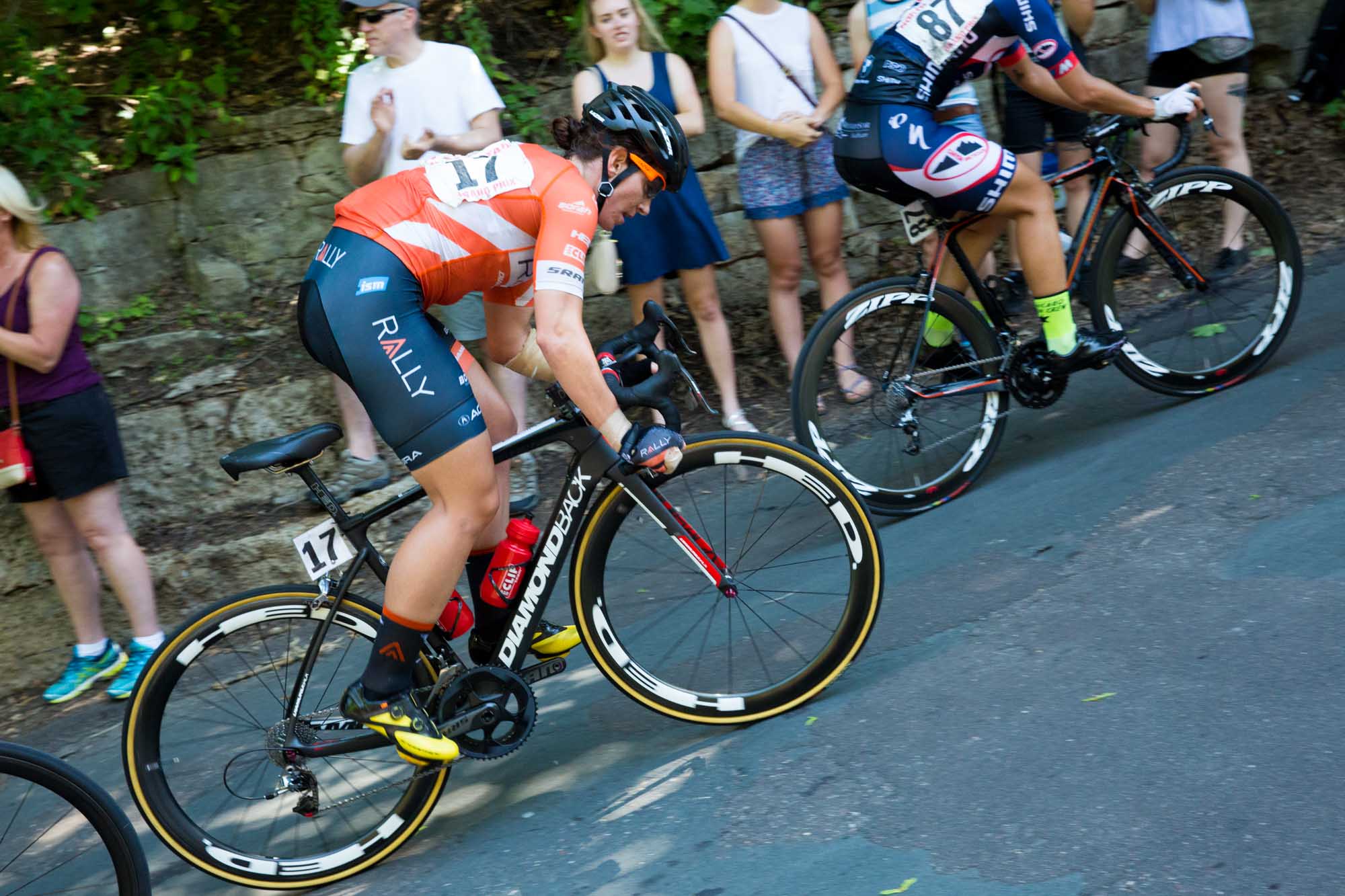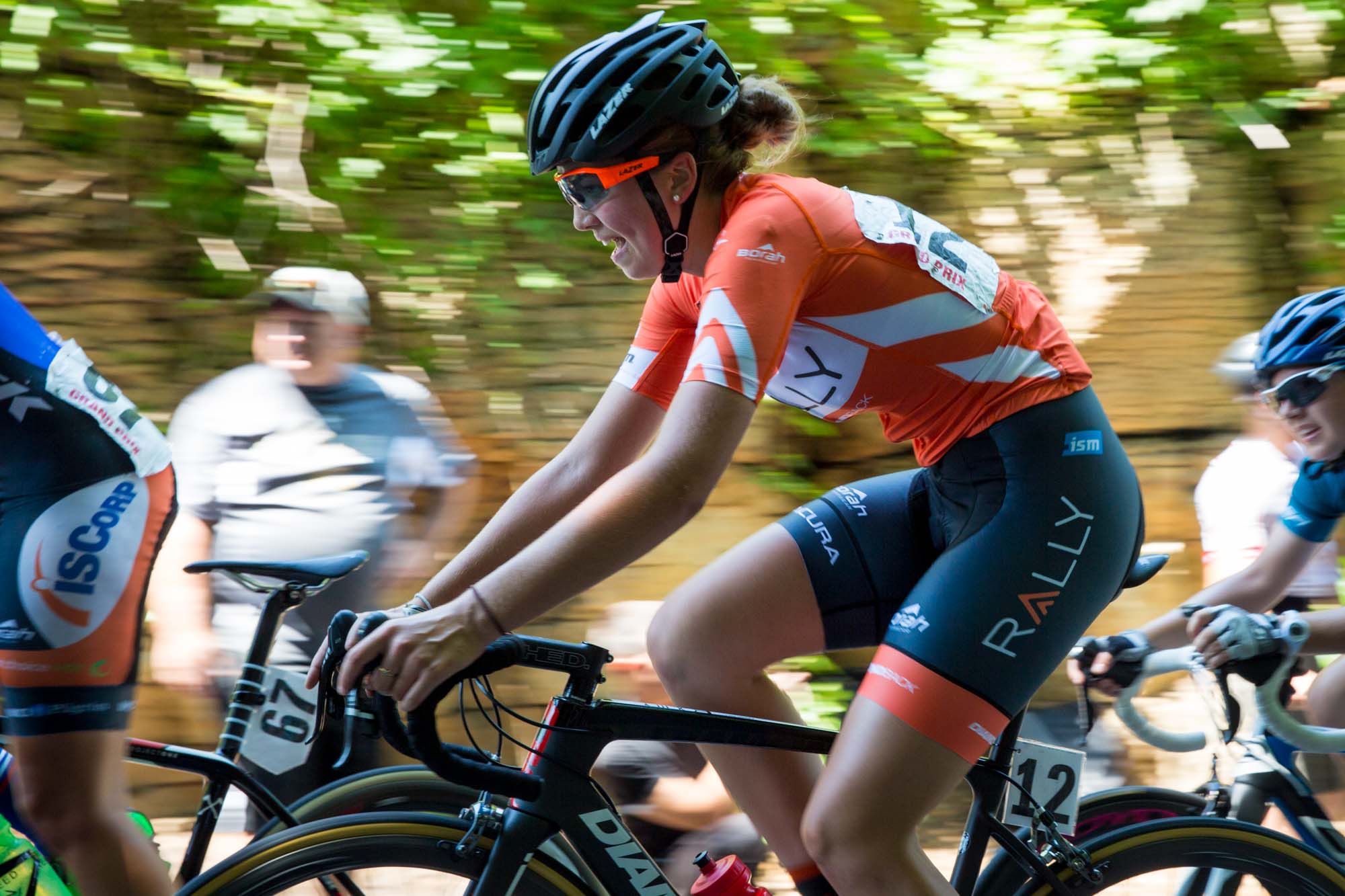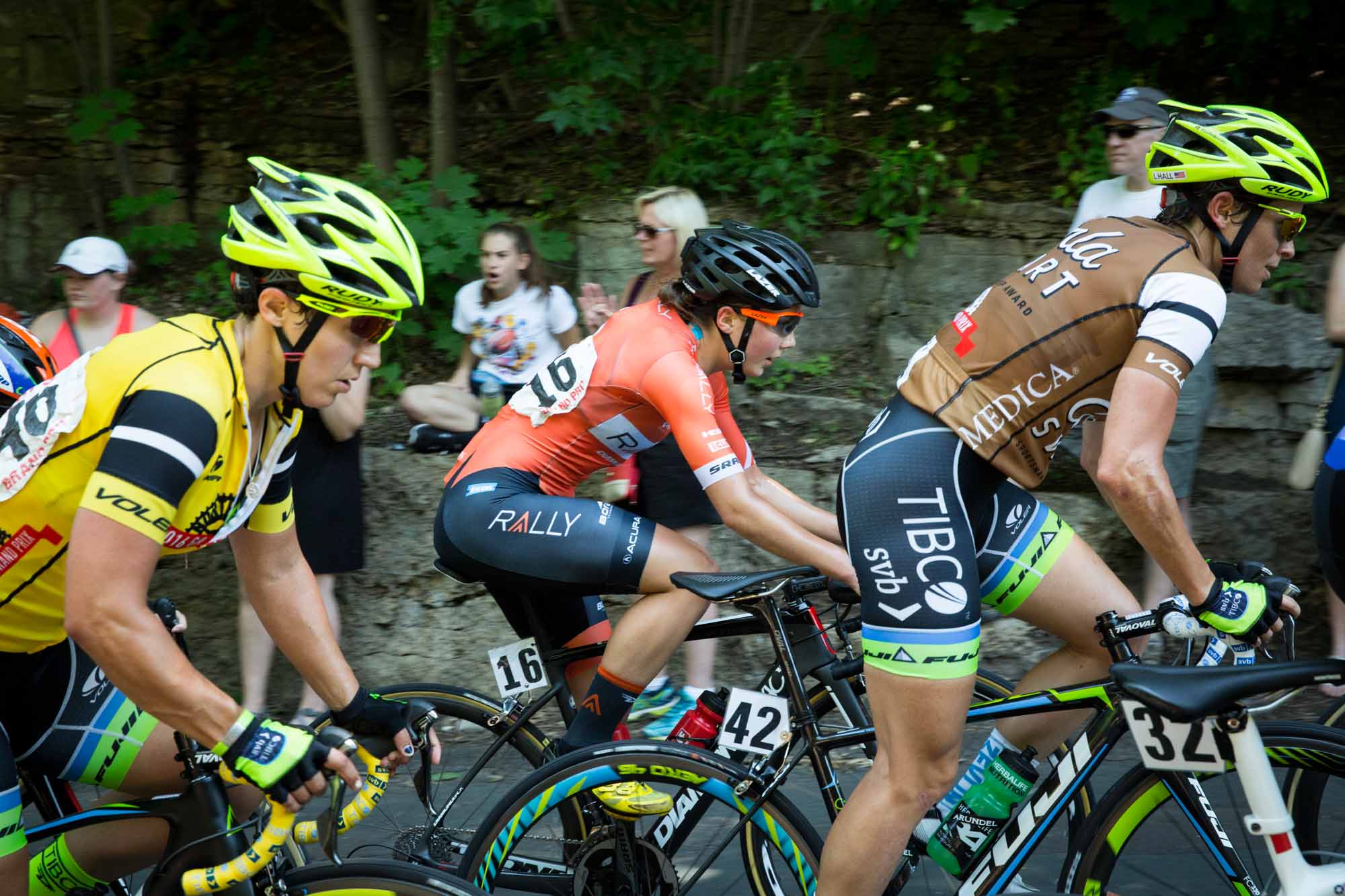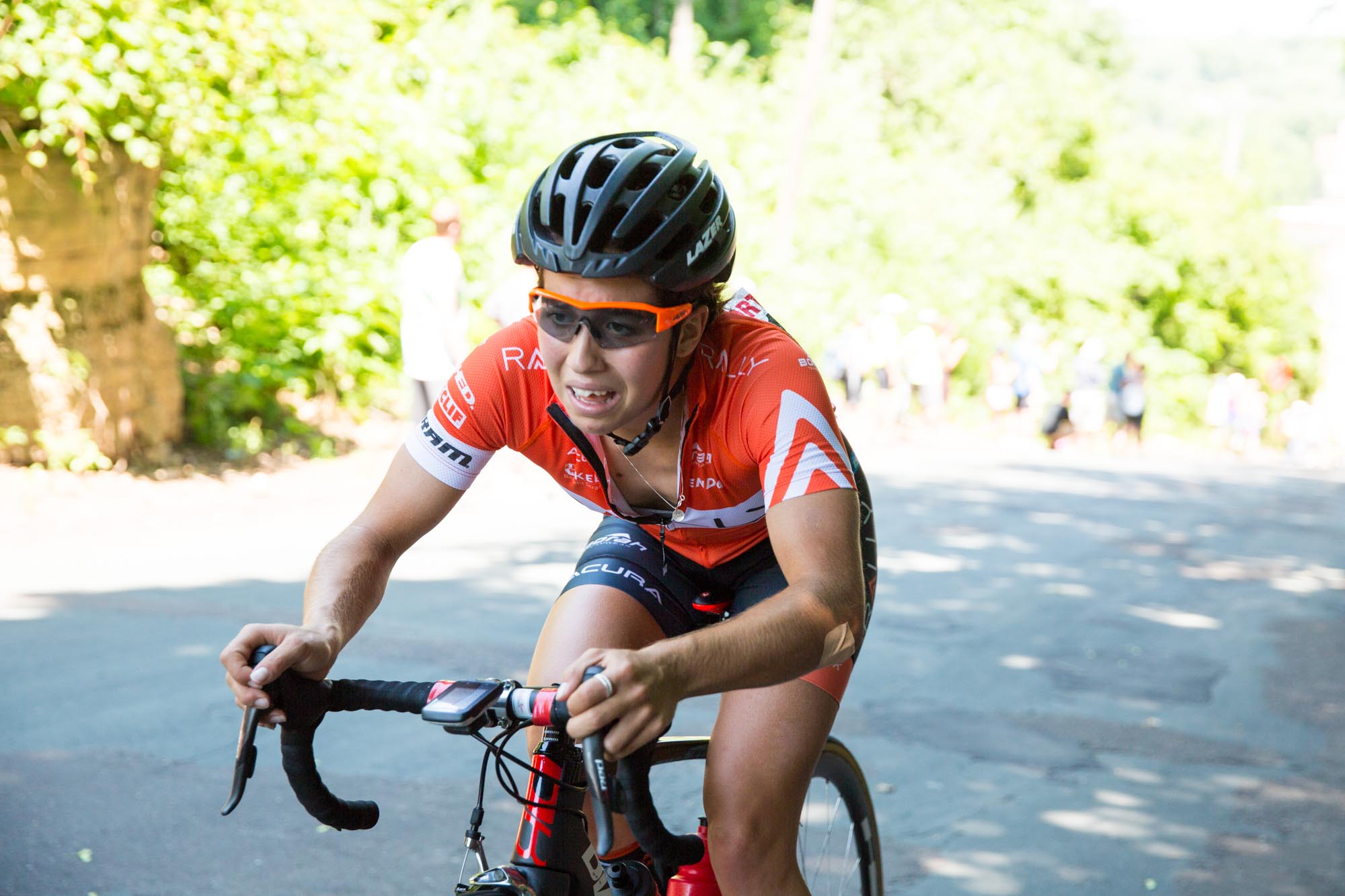 Hats off to Catherine Oulette, finishing the race with some permanent battle scars – two chipped teeth – from the first day of the race. Nothing a little dental work can't fix!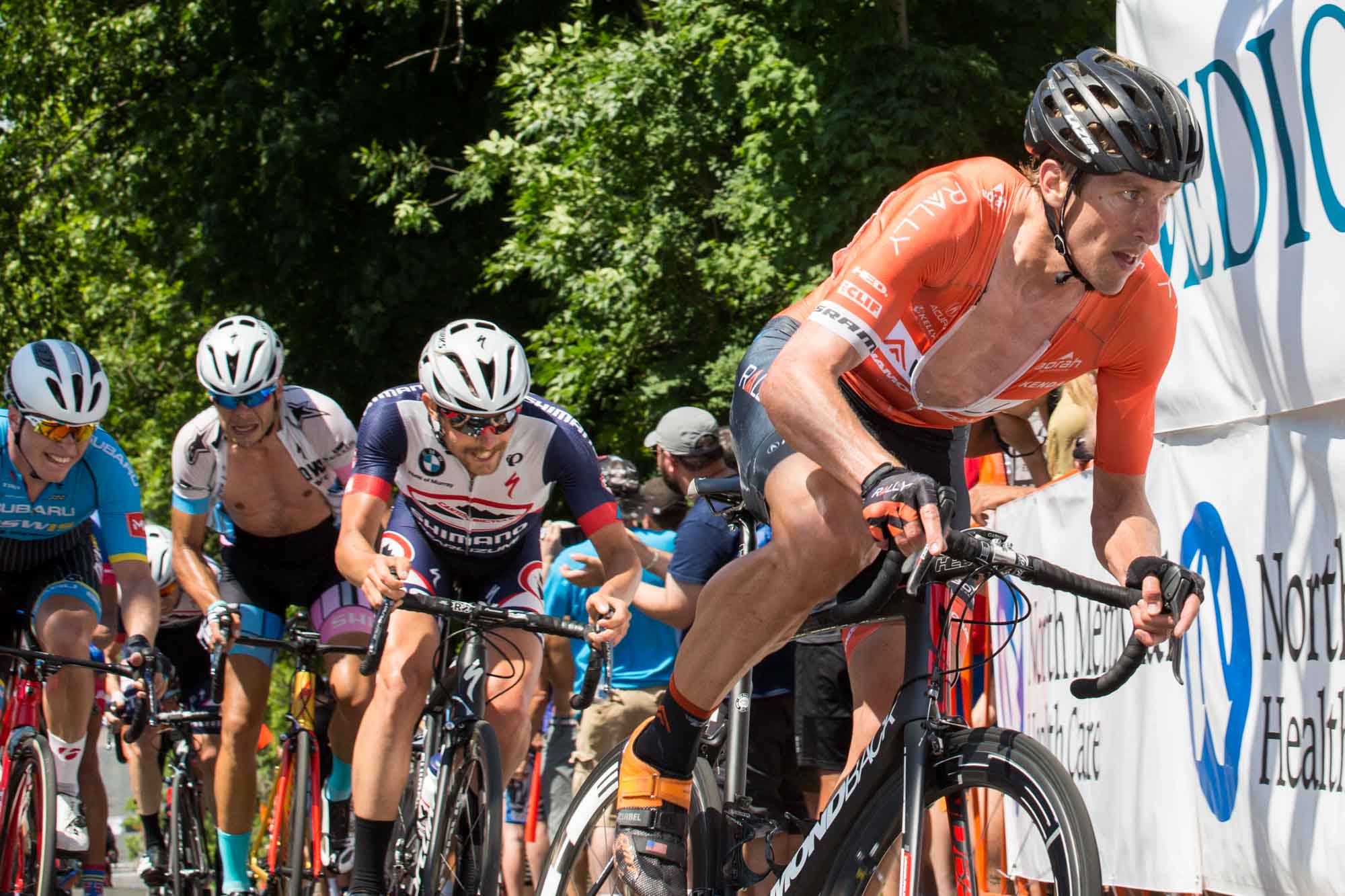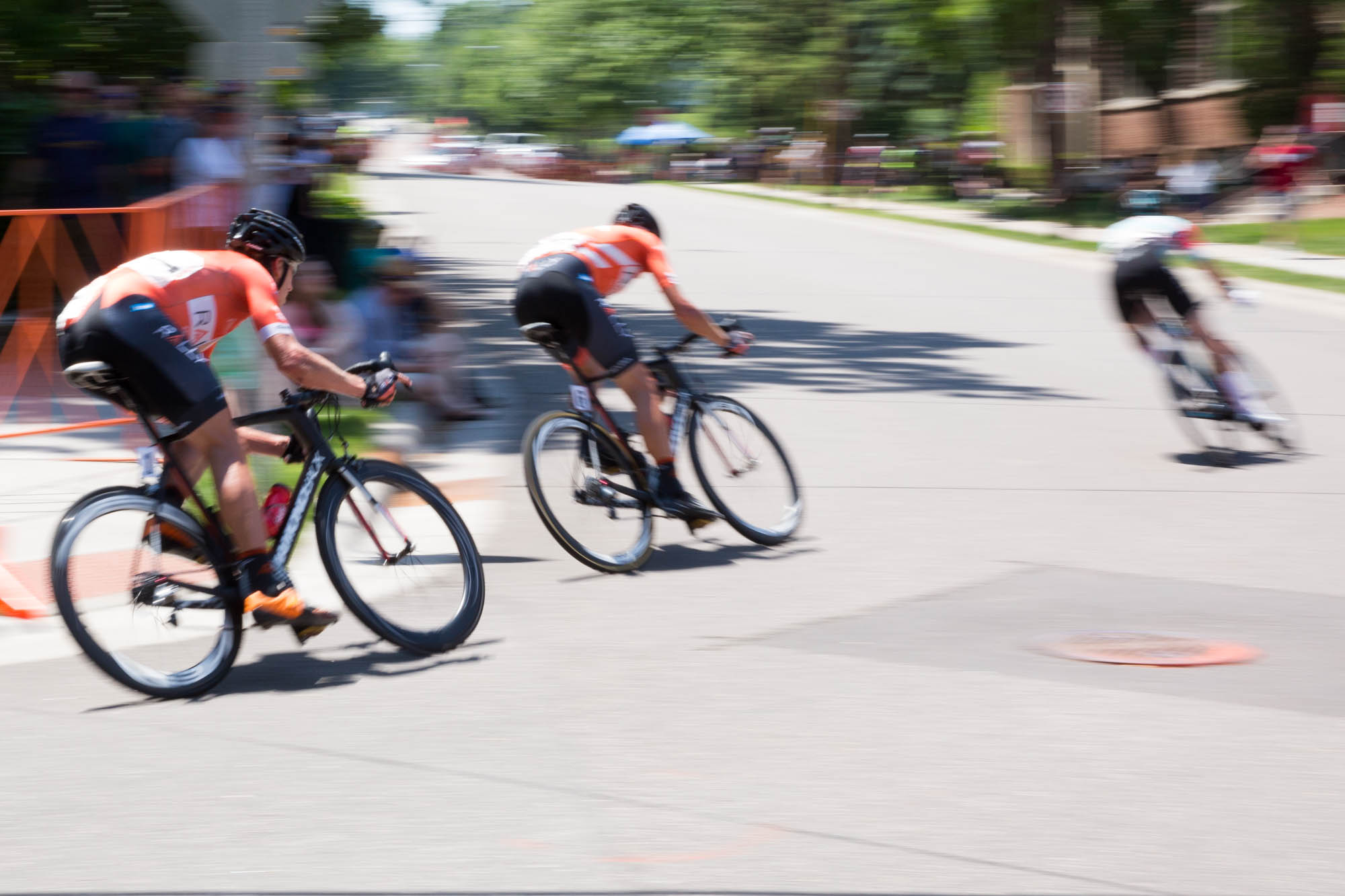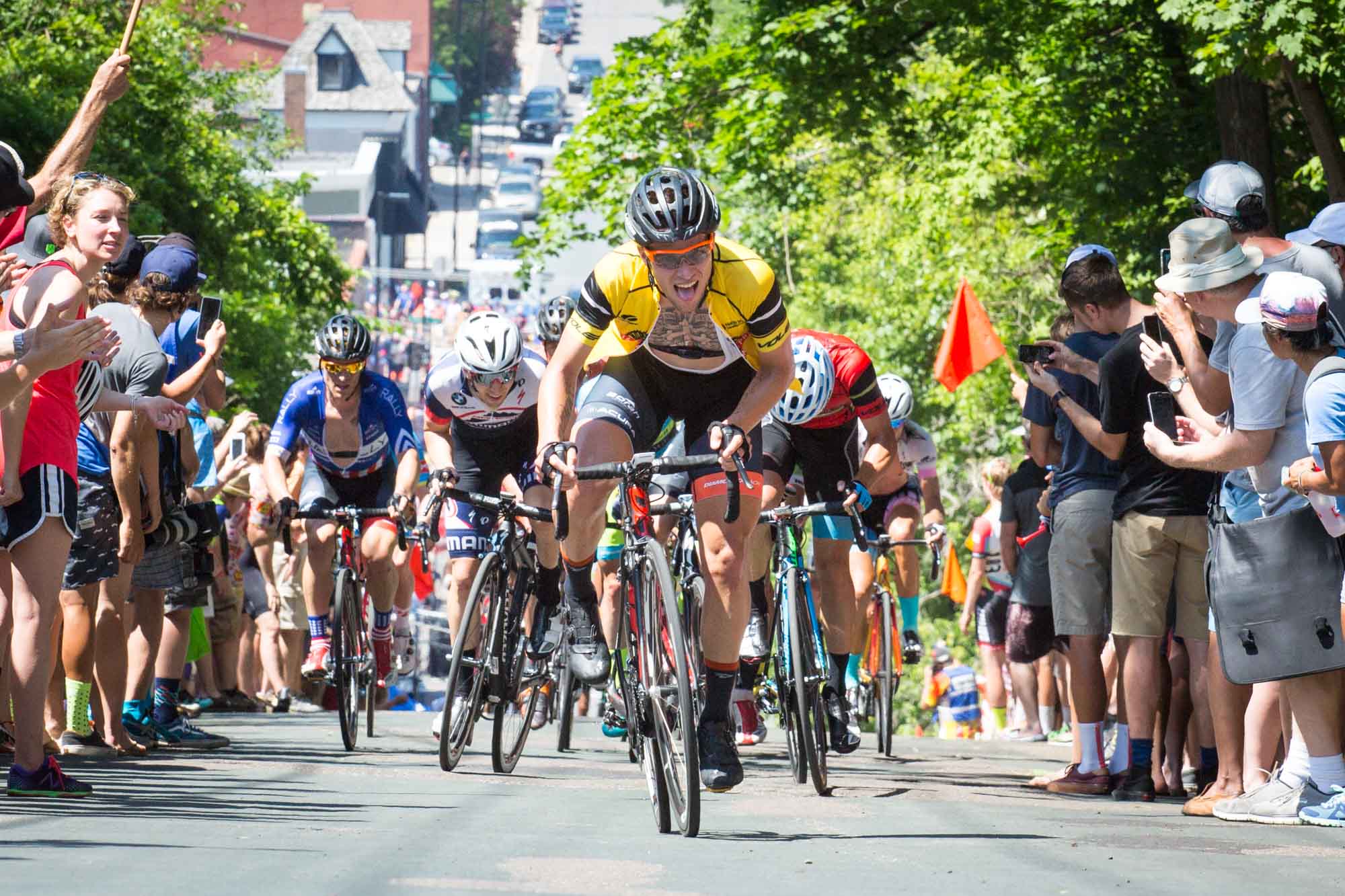 Danny Pate and Tom Zirbel rode the front for much of the race, keeping the pace white hot and making an escape up the road difficult to impossible. Evan Huffman stayed comfortable and cool (relative, in the 90 degree heat) behind these two watt monsters. Brad Huff contributed what saved energy he had for a shot at the finish.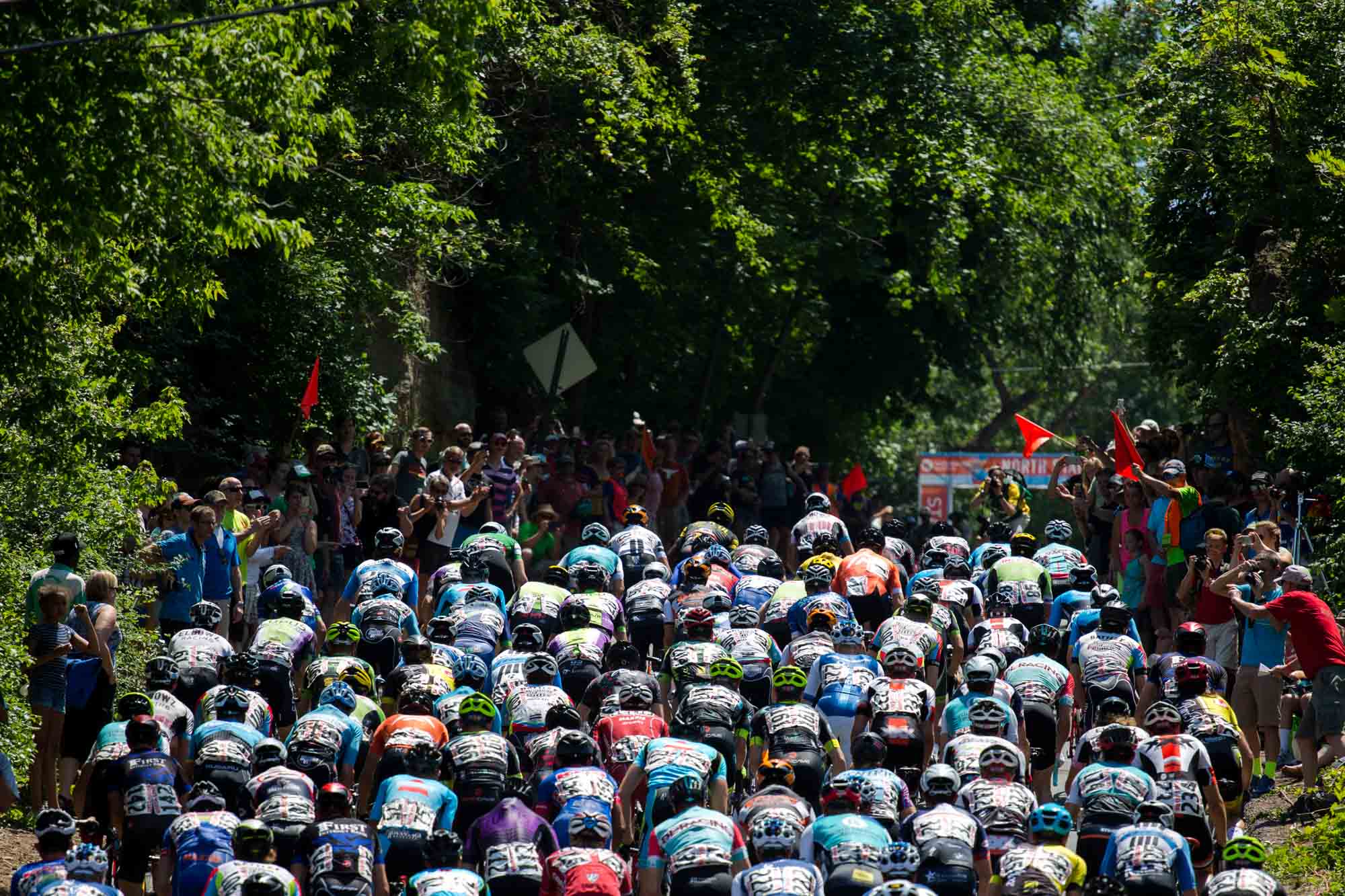 This photo is dedicated to the late, great Doug Penzinger, who died unexpectedly recently at home in Golden, CO. He was one of my favorite photographers, covering the Olympics, Tour de France, Super Bowl, World Series, and even working as a war correspondent during a long and illustrious career. This frame is a take on a Penzinger classic. He brought vibrance and realism to the action sports tradition. R.I.P. Doug.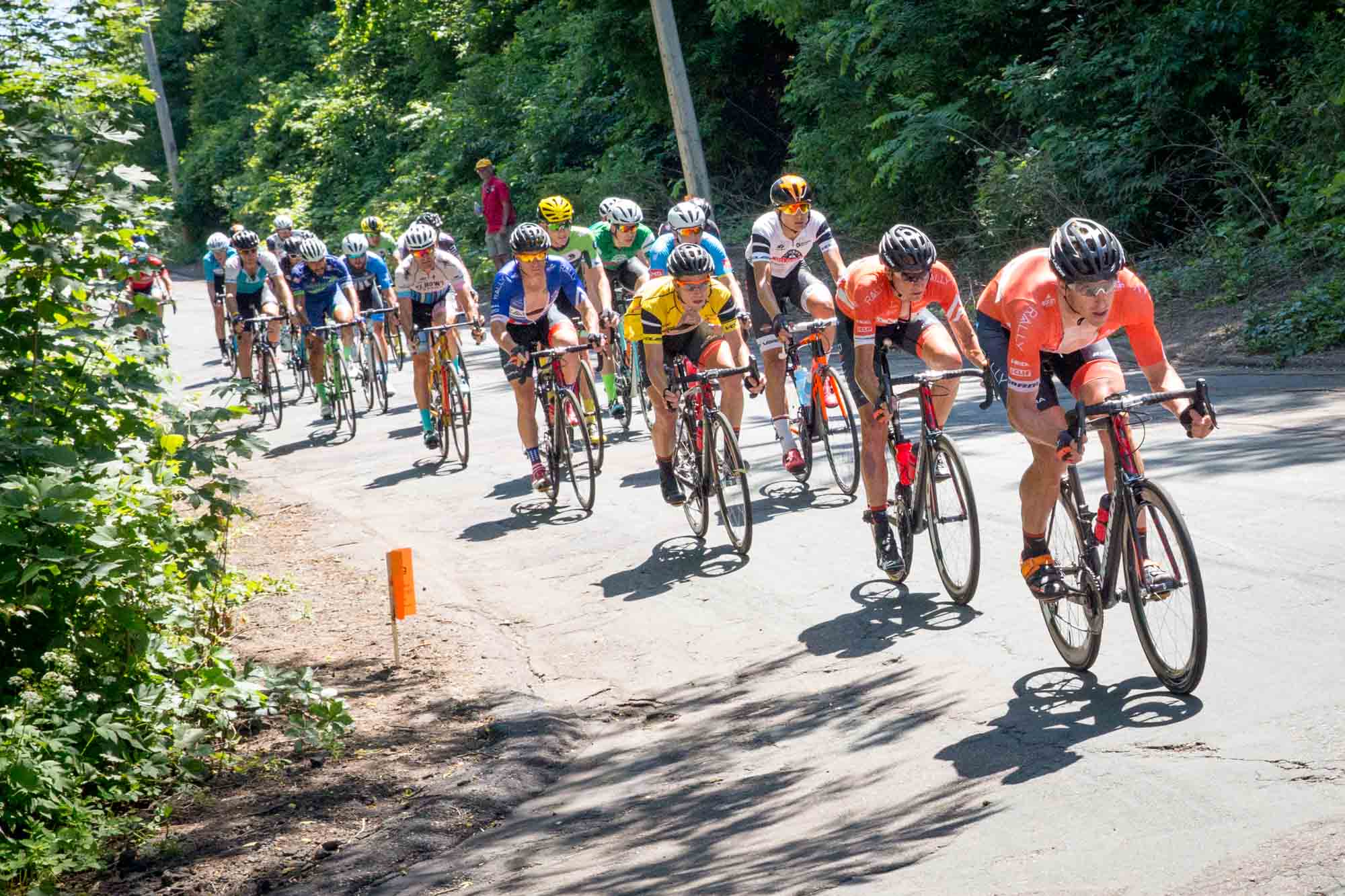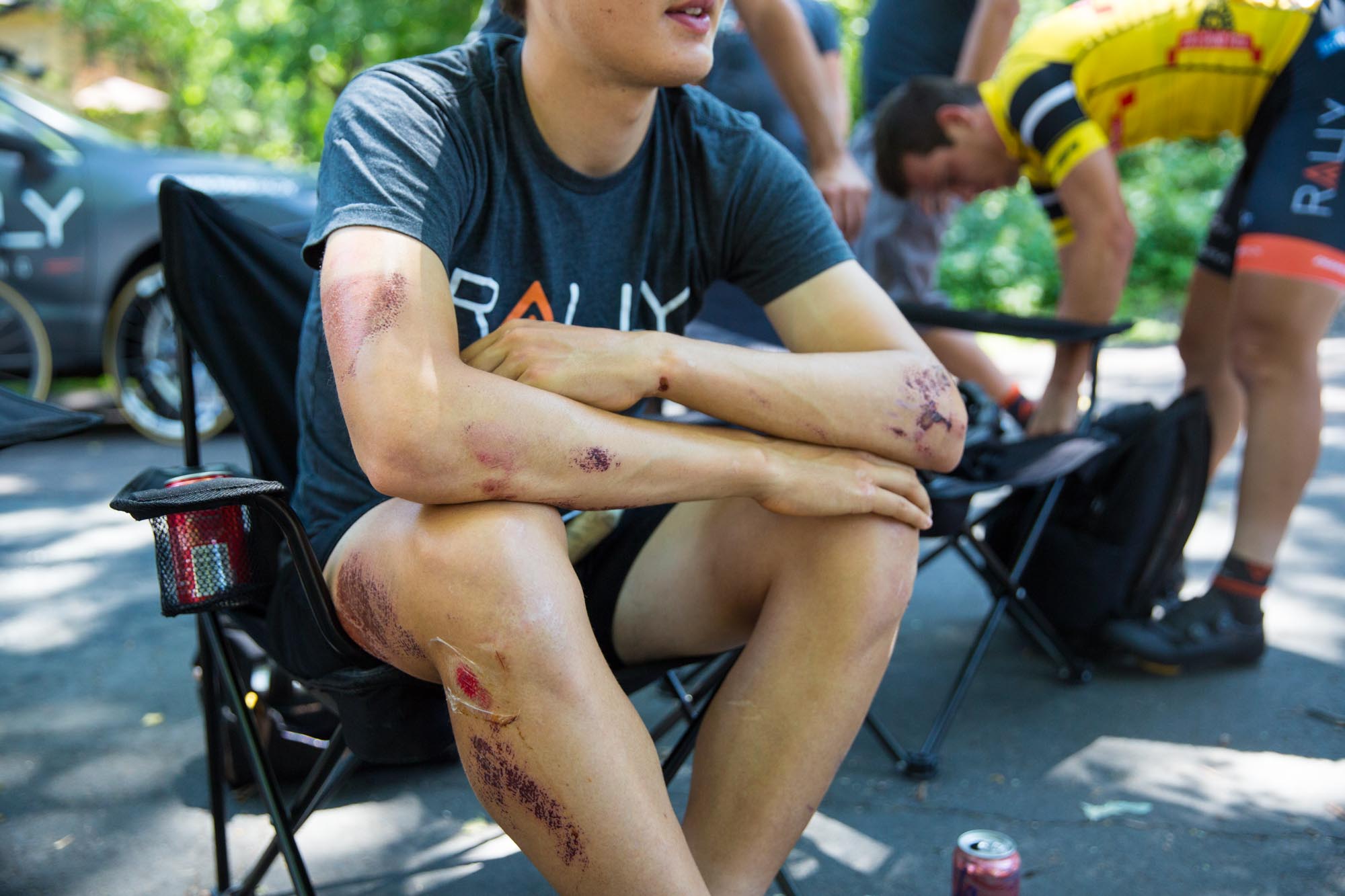 Adam De Vos suffered greatly in a massive pileup in stage three. He took perhaps the worst punishment of the dozens who went down. He was directly behind the initial crasher and went over the bars at 40+ MPH. It's not pretty – broken ribs, a lung puncture, and loads of road rash, but Adam was on hand in Stillwater to support his team, even stiffly climbing the podium steps to celebrate the team classification win. Wish Adam a speedy and safe recovery.
Brad Huff, who by his own admission is climbing better than he ever has in his career, put a big exclamation point on the week for the team with a hard fought stage win. Heather Fischer nearly doubled down for the team on Chilkoot Hill, finishing a nail biting second in a three-up sprint to the line on one of the toughest and most vibrant finishing straights in America.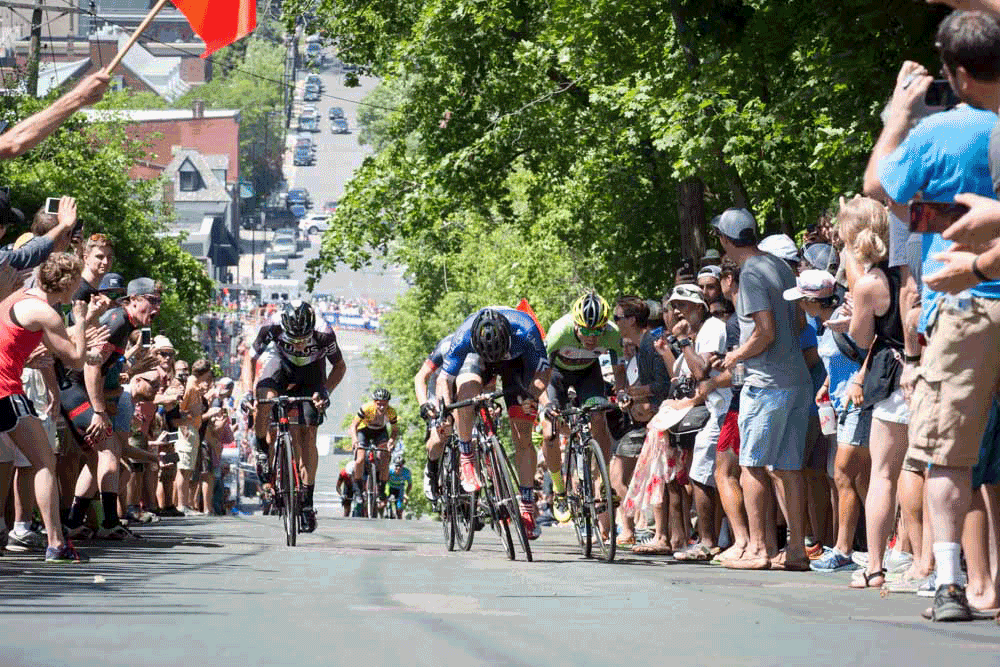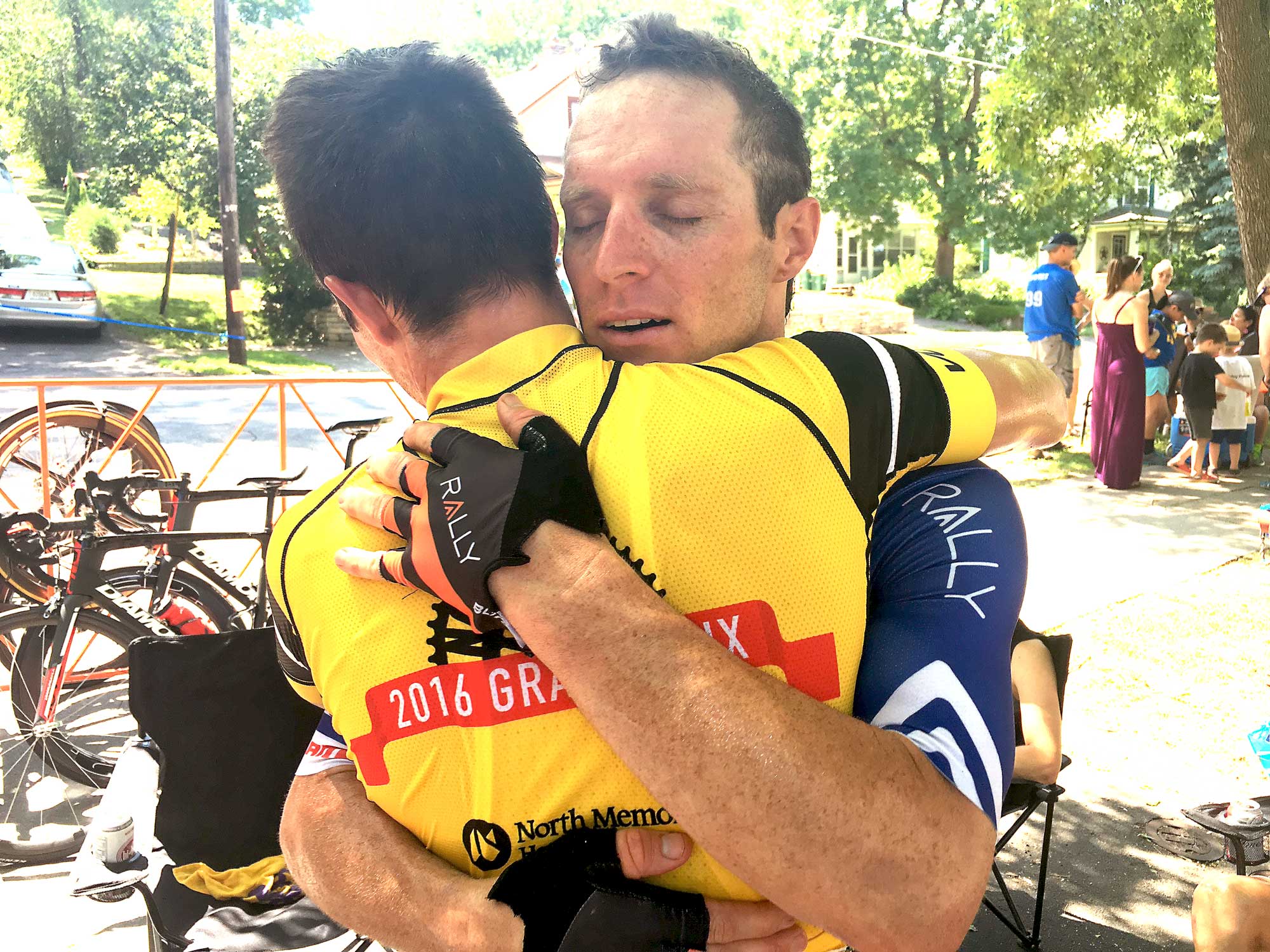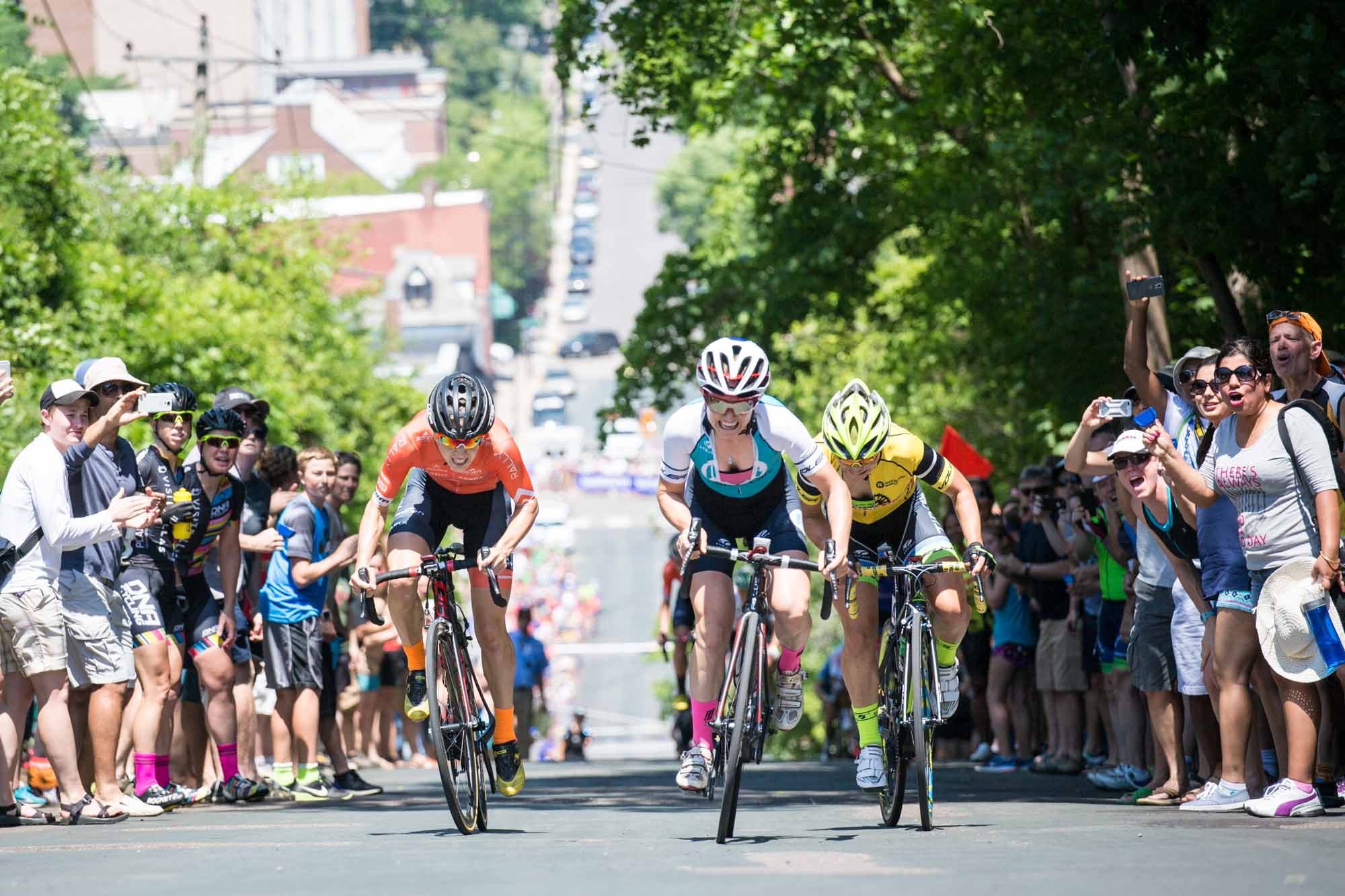 There was much to celebrate on the final podium for the men and women of Rally Cycling. Here's a breakdown of the week's results.
North Star Grand Prix Final General Classification - Men
1st Evan Huffman 
2nd Brad Huff 
3rd Tom Zirbel 
Men's Team Classification
Rally Cycling
Queen of the Hills
Erica Allar  
Stage Results
1st, Stage One – Tom Zirbel  •  2nd, Stage Two – Brad Huff  •  3rd, Stage Three – Erica Allar  •  1st, Stage Three – Evan Huffman  •  3rd, Stage Three – Brad Huff  •  3rd, Stage Four – Brad Huff  •  2nd, Stage Five – Evan Huffman  •  1st, Stage Six – Brad Huff  •  2nd, Stage Six – Heather Fischer