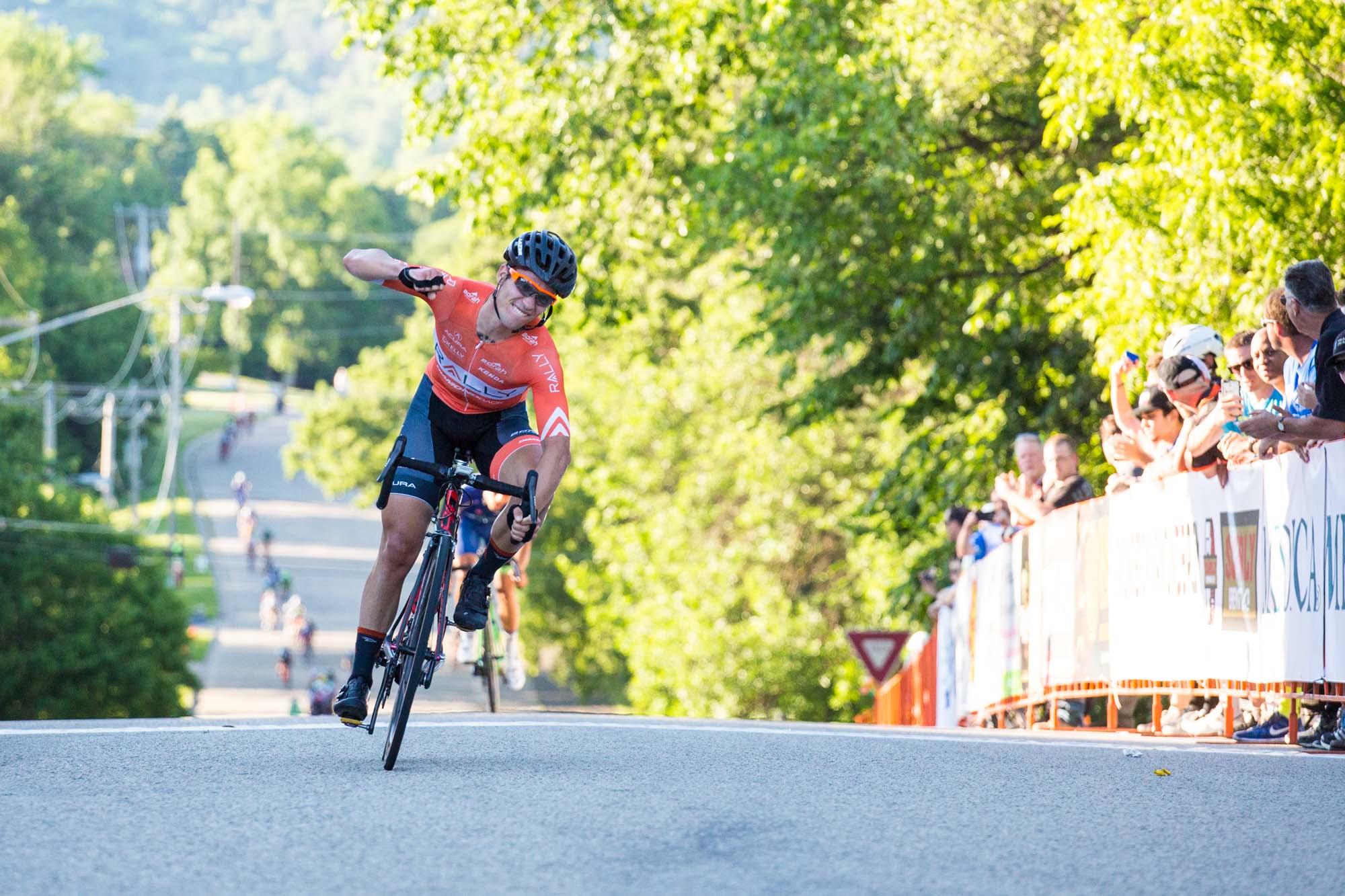 news
Zirbel Retains Yellow, Allar dons Queen of the Hill Jersey After Successful Day for Men, Women
The team continued its domination of the North Star Grand Prix on Thursday with Evan Huffman powering to victory in the stage three Cannon Falls Road Race. Huffman won after a daring, late race solo bridge to a deteriorating breakaway before out sprinting Julio Padilla (Team Arapahoe Resources) on the final kicker to the finish line. Brad Huff finished third, winning the bunch sprint behind the two escaped riders handily. Tom Zirbel retained his overall lead.
Evan Huffman launched a perfectly timed attack on the final climb to win the race solo.
"It was a chaotic stage with lots of attacking" said Huffman. "Finally five guys got away towards the end and had a good lead. Huff did a lot of work to bring the gap down before I saw a place to bridge across. When I made the bridge, there where only four guys left so I attacked and one guy came with me. We worked together the last couple of laps, before he jumped me in the last corner. I was able to get on his wheel, recover and then launch my sprint."
Allar Third, Queen of the Hill
Erica Allar showed her overall strength by claiming the Queen of the Hills (QOH) jersey out on the road before finishing third in the stage. Coryn Rivera (UnitedHealthcare) and Kimberly Wells (Colavita-Bianchi) were the only two riders to cross the line before Allar. Allar's Rally Cycling teammate Heather Fischer crossed the line in sixth to give the team two riders in the top ten.
I like this stage, I have been first and second here before," said Allar. "I think I was a bit of a dark horse for this race because I haven't raced here in so long and people think of me more as a pure, flatland sprinter. I love the difficulty level of a highly technical circuit and the opportunity that provides to separate. We rode really well together as a team, and I am happy we got the QOH jersey and are on the podium for the stage."
INJURY REPORT
Despite it being a successful week on the results sheet, Wednesday nights St. Paul Criterium and the Cannon Falls race was marred by several crashes in the men's and women's races, both involving Rally Cycling athletes. Catherine Oulette and Katherine Maine hit the deck in St. Paul in separate pileups. Maine suffered a concussion and was forced to withdraw, while Ouellette chipped two teeth (and still has one of the best smiles in the peloton). In Cannon Falls, a large crash on a long descent early in the race wreaked havoc on the men's field. As a result of the crash, Adam De Vos and Jesse Anthony ended the day in the hospital. De Vos suffered broken ribs while Anthony came out in slightly better shape, with bruised ribs and liver. Wish all four riders a speedy and full recovery in the coming weeks.