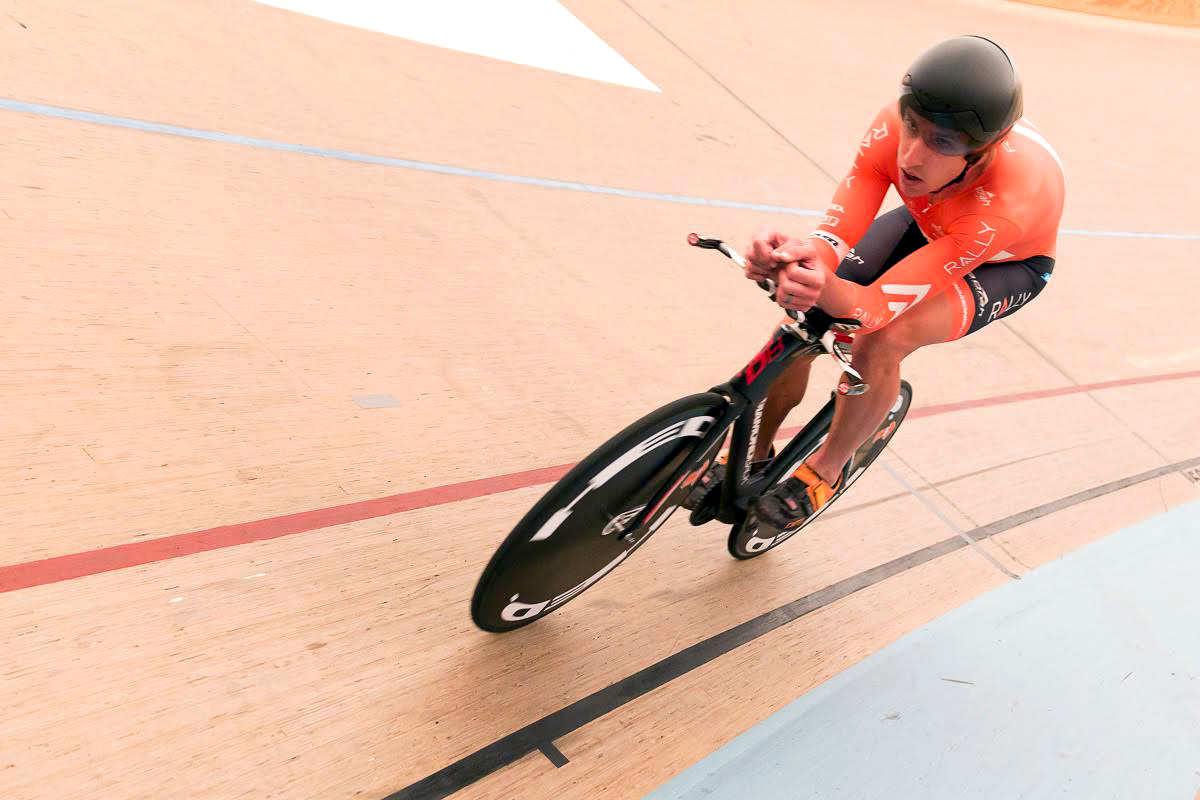 news
Rally Cycling Rider Ends Career with New Standard of 53.037 Kilometers
Tom Zirbel smashed the American hour record today in Aguascalientes, Mexico. In his final event as a professional cyclist, Zirbel powered around the velodrome to set a new standard of 53.037 kilometers (32.95 miles). Zirbel topped the almost two-decade old record of 51.505 kilometer set by Norm Alvis in 1997. In setting the American Hour record, Zirbel also set the second fastest hour record time in the world.
"This is the perfect way to end my career," said Zirbel. "I am so thankful to Rally Cycling for giving me the opportunity to break the record. From the first time we got on the track we knew it was wicked fast. It was really a matter of managing my effort so I didn't explode. I didn't want to miss the American record so we went out conservatively. It's a crazy event, a rollercoaster. An hour is a long time to be stuck in your own thoughts. I had some doubts out there – not sure if I could do it. Once I hit 15 minutes to go, I knew it was time to pick it up and give it everything I had. I am really pleased to break 53 kilometers – that was my secondary goal."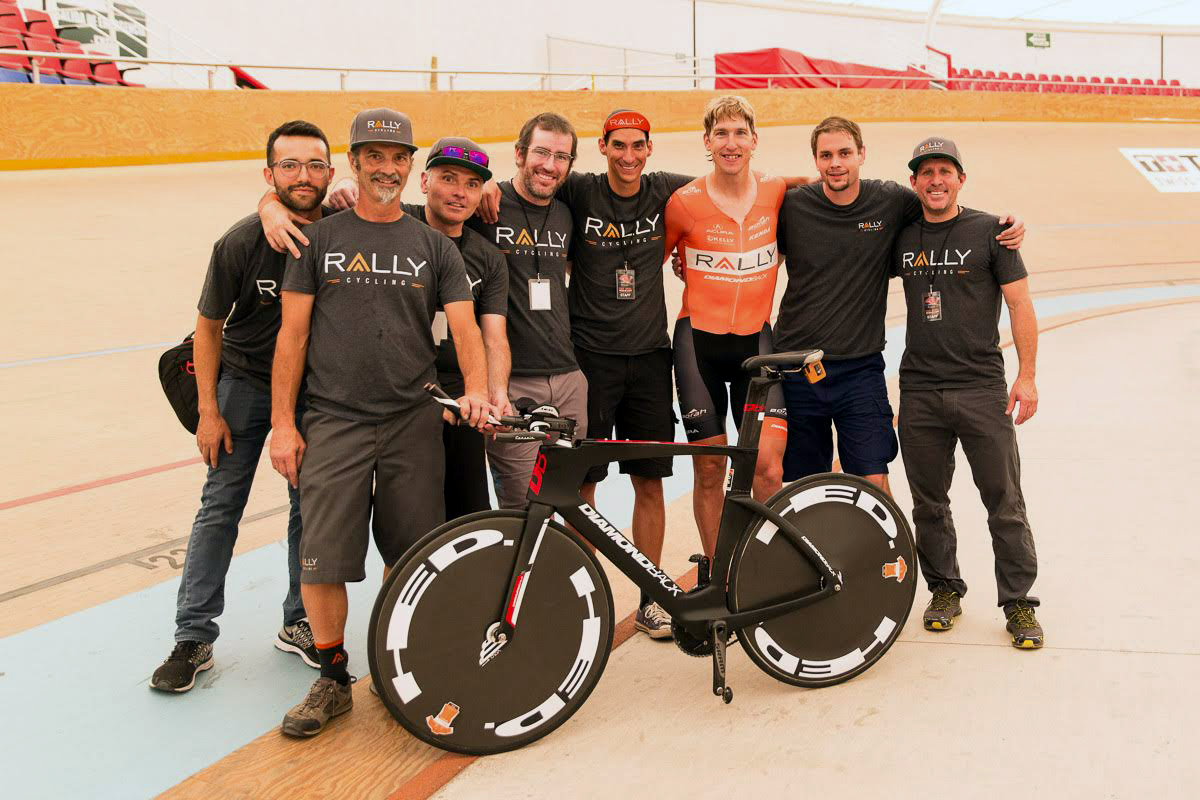 Tom Zirbel with the Rally Cycling support staff 
The hour record formerly consisted of two different classifications –  the UCI Hour Record and the Best Human Effort. The categorization was seen as necessary due to the explosion in technological improvements and non-standard designs of bicycles in the late 1990s. In 2014, the UCI unified the hour record to allow bicycles that are legal for track distance cycling. This set off renewed interest in the event and eight riders have since attempted to set new marks. Until today, two British riders held the two top spots in the record books. In May of 2015 Alex Dowsett set a mark of 52.937 kilometers, which at the time was the world's fastest. Then, in June of that year, former Tour de France champion and Olympic gold medalist Bradley Wiggins set the new mark at 54.526 – largely believed to be the defining ride in this discipline.
Tom Zirbel was calm and concentrated before starting his record-breaking ride at the Velódromo Bicentenario de Aguascalientes. His demeanor stood in sharp contrast to the fiestas and revelers throughout the town celebrating Mexican Independence Day on September 15. Once the buzzer sounded, Zirbel quickly got up to speed and settled in for one of the longest hours of his life. Throughout his effort, his lap times remained consistent, until the final 15 minutes when Zirbel increased his speed – an extremely rare feat for an hour record attempt. His efforts were rewarded as he became only the second rider in the world to break the 53 kilometer barrier.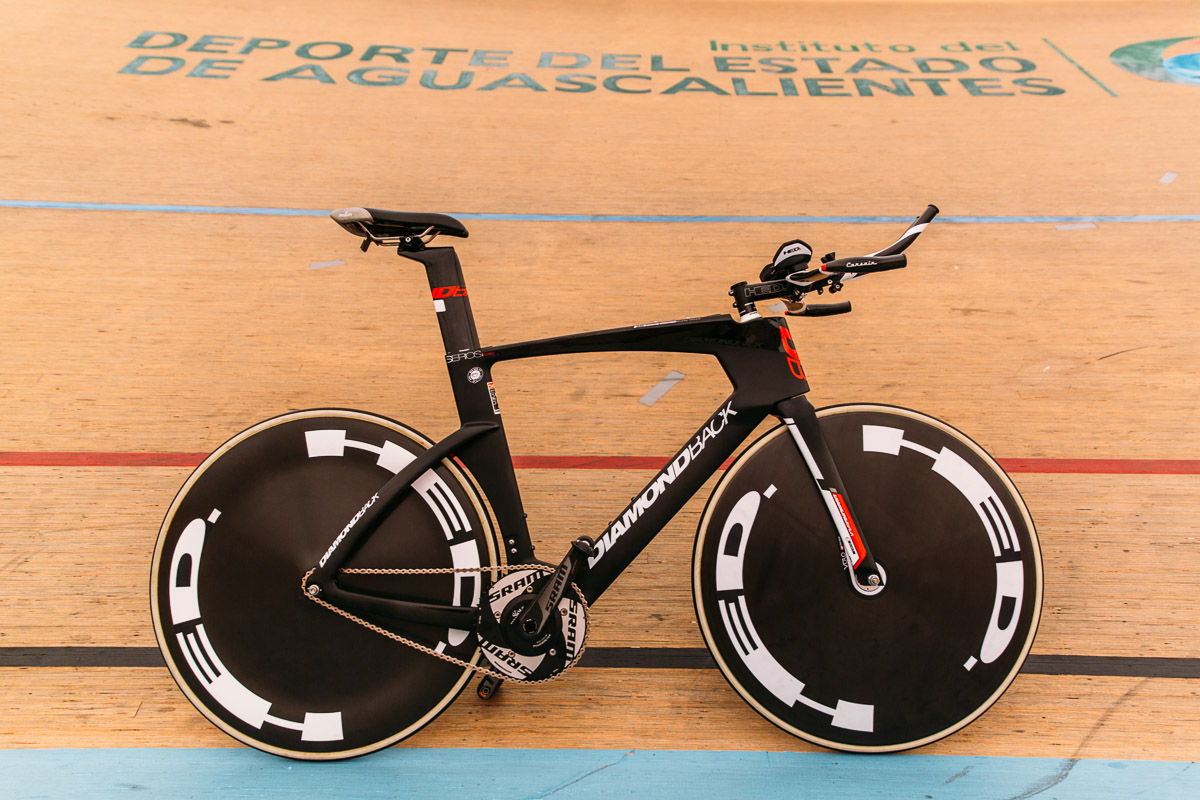 Tom Zirbel's American Hour record Diamondback Serios
Before his record-breaking ride, Zirbel trained at altitude at the Boulder Valley Velodrome. The velodrome is the same dimensions and was designed by the same person, Peter Junek, as the track in Aguascalientes. Rally Cycling chose Aguascalientes due to its high elevation (6,194 ft) and reputation as one of the fastest tracks in the world. In Mexico since Monday, Rally Cycling used the work week to dial in his modified Diamondback Serios. Looking to maximize every watt, Zirbel's record breaking machine was equipped with HED disc wheels, HED Corsair E Flat aero bars, Speedplay Zero Aero pedals and a ISM Adamo Podium saddle. Rally Cycling technical clothing sponsor Borah Teamwear provided Zirbel with his skinsuit and Lazer his WASP aero helmet.
"It is beautiful to see someone end their career with such a big accomplishment," said Performance Manager Jonas Carney. "Tom has been great to work with, just fantastic. He has been a great team player and to see him set the American Record right before he retires is really satisfying. Today, everything went really smoothly. It is relaxed here in Aguascalientes and everyone here at the velodrome is super helpful. We started conservatively and slowly ramped it up. The middle part of his effort was really steady. In the last 15-minutes he just started to ramp it up and pushed it past the 53-kilometer mark. He rode almost a perfect event, I don't think he could have paced it better. We picked the right gear, the equipment and the right schedule for it all to come together."
American Hour Record
Tom Zirbel: 53.037